Nashoba DECA goes National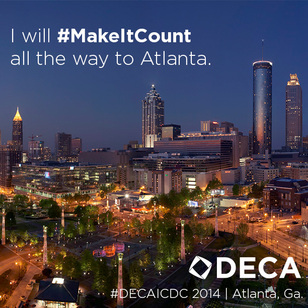 The DECA International Career Development Conference (ICDC) is the highlight of the DECA year. Approximately sixteen thousand high school students, advisers, business people and alumni from across the country all travel to one destination to experience the ultimate accomplishment.
This year's four day conference will be held in Atlanta, Georgia at the Georgia World Congress Center,where students will participate in numerous activities. In the leadership academies, members are provided with effective leadership skills through a variety of different group tasks. Students will present and compete in their designated categories over the four days, but they will also have plenty of down time to explore the busy city of Atlanta.
Nashoba's performance at this year's state conference in Boston was outstanding. Twenty-two members qualified to continue on to nationals by placing in the top four of their category in the state, breaking a Nashoba DECA record; including five state champions. Needless to say, Nashoba stole the show at this year's state competition and they even won the coveted spirit award.
Students are looking forward to going to Atlanta and are excited for the new experiences to come. Senior Jackie Kalinowski, who came in fourth place at states, is thrilled to be going. "I'm very excited to be going, and my partner, Jennifer Cote, and I are so ready. We are going to be reevaluating our presentation and are going to get our poster professionally printed," continued Kalinowski. "We will be rehearsing a lot more as the trip gets closer." ICDC provides students with a great learning experience and students all hope to benefit from that. "I hope to further understand the business world and to see how people interact with each other," finished Kalinowski.
Senior Danielle Tremblay will be competing in the Entrepreneurship Innovation Plan category. She and her partner, senior Hannah Freeman, plan to practice their presentation more as the time draws closer and will be improving their poster. "I'm excited about meeting new people from all over the country," said Tremblay. "Competing in a completely different environment doing a bunch of different activities will be a blast." One purpose of ICDC is to prepare students with useful knowledge they will use in their future. Tremblay continued, "I really hope that I will gain a more professional outlook on business and take it with me along with my own business that I hope to open down the road!"
Nashoba DECA will be heading to Atlanta on May 3rd in hopes of taking home the gold. Hopefully, all the hard work and effort put into their projects will pay off. So, will Nashoba steal the show at nationals like they did at states? We wish them the best of luck, stay tuned to find out!
Photo courtesy of deca.org