Promposals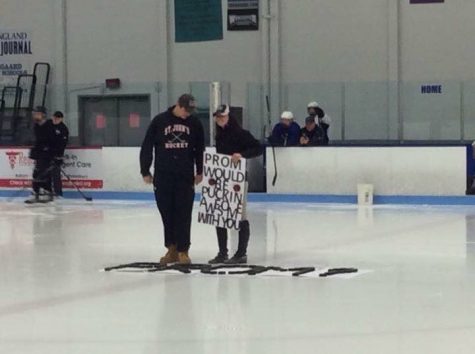 Promposals have started to become a big part of the world of prom. From a cute little note to an all out flash mob, over the years promposals have become bigger and better. Promposals can be taken on from many angles, and with many different approaches from puns to a heart felt presentation.
What used to be just a simple question of whether or not someone would like to attend prom has now been escalated into so much more. The simple yes or no question has turned into a type of competition on who can ask someone to prom in the most grandiose way. Some people get the whole school involved in the event. If, during this prom season, one finds oneself at a loss for inspiration, there is always the internet. Inspiration can be found all over the internet on all different sites, from Pinterest to Instagram to Facebook to Twitter.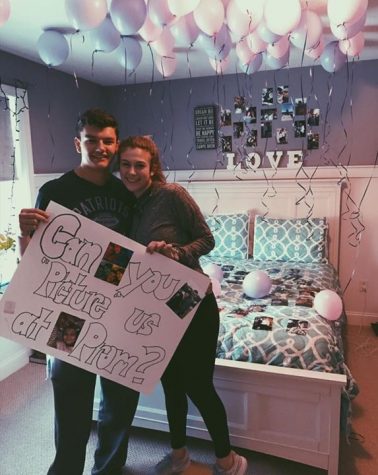 There have been many different types of promposals going on within the Nashoba school district, ranging from simplistic to spectacular. Last year, now senior Sam Keith promposed to his girlfriend Emma Talpey with a massive sized boulder, that had the words, "Prom would ROCK with you," painted on it.
One that happened this year was to Junior Vicky Tuttle by Robert Ryan. He surprised her after she came home from the gym by decorating her room with pictures of them together. The pictures were arranged on her wall and in the shape of a heart on her bed. Her room was also filled with balloons. When she walked into her room, she saw him holding up a sign that said, "Can you picture us at prom?"
Another Promposal occurred this year by Kacie Babbit to her boyfriend from Saint Johns. She showed up at his hockey game with five posters. Four out of five of them had hockey pucks on them spelling out the words PROM, and the final one said, "Prom would be PUCKING awesome with you." Kacie set up the posters spelling the word PROM on the ice, and held up the last poster when he came out of the locker room. Each one of these were very different in their approach to the important question, but all of them got the desired answer of "yes."
There will be many more to come with prom approaching quickly, so start thinking about your plans to ask your future prom date. Send pictures or videos to the Chieftain Press of your own promposals, or the best ones you've seen so far! Help inspire fellow Nashoba peers who may be at a loss for inspiration themselves.