More Rainy Weather!
Leaves outside of Nashoba Auditorium drip with the incessant spring rain, creating puddles and squishy mud.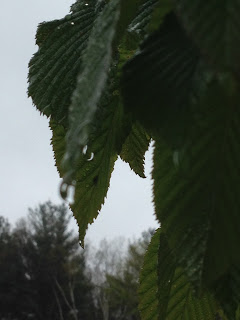 This bleak week has proven to be difficult for many Nashoba students. The effects of rain have caused tired, unsocial, and gloomy attitudes among students and staff.
Rain can be both frustrating and somber. These feelings can be unhealthy for us, and being cooped inside a small school with hundreds of people feeling "under the weather" can become burdensome. Many people have probably blamed the weather for their lack of productivity, happiness, or sociability at least once. However, while the weather may be used as an excuse for laziness, there is no doubt that it absolutely disturbs our moods and emotions.
Health Guidance, a beneficial database of health-related articles, explains that "Meanwhile rain means that you get wet when you walk to your car or to the train station which is frustrating in itself and again likely to cause illnesses. On top of that though it means that more people drive meaning that you will start the day again feeling angry and frustrated."
Roxy Vacha, a sophomore at Nashoba, commented on the rain this Wednesday, saying "It makes me unhappy."
Students have been feeling less motivated and excited to learn and complete assignments, pushing teachers to try harder to engage and animate their students. For example, Mrs. Hera, a 10th Grade English teacher, decided to change her schedule to better adjust to the weather this Tuesday, by reading aloud to her students.
Also, athletes this week have been feeling the affects of rain. Multiple games and meets have been postponed, and players have had to endure practice and exercising outside in the pouring rain.
Sarah McGregor, a sophomore and track athlete this Spring, explained on Friday that "Sometimes they cancel track meets, but sometimes we still run in the rain anyways."
According to The Weather Channel, this coming week will most likely be filled with sunshine and temperatures in the low 70s! It is finally time to put those umbrellas and raincoats away.
The rain may get in our way sometimes, but if you stop to admire it, you might find that it's very beautiful. Providing water to our plants is an important job, and rain gets the job done. However, we have been receiving plenty of rain, and I think I speak for all of us when I say "I've had enough!"
Unfortunately, all we can do is wait patiently for the clouds to clear, and the sun to shine once more. Until then, we must endure wet feet and gloomy moods.