The Future of Nashoba News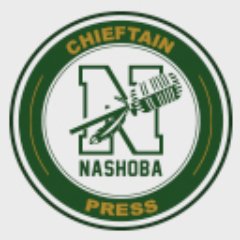 Many of the Chieftain Press members have been asking: With the class of 2018 leaving, what will happen to Nashoba News? Who will anchor? How will the Chieftain Press live on? Are there new students interested to ensure the program continues? Time will only tell, but in the mean time, we have some answers.
Every year the Chieftain Press assigns new roles to returning journalism students, whether it's making a contributor an editor, or someone behind the scenes an anchor on Nashoba News. You can expect to see some of the underclassmen taking a step up to become leaders, but it's time to make room for the next generation of journalists!
Viewers will be seeing some new faces on Nashoba News. Of course we still have our upperclassmen and long-term Chieftain Press members who will continue their work, though new faces will be popping up on the broadcasts as new anchors and newscasters step up to the challenge. Many underclassmen this year have shown interest in the process of anchoring, even though it takes work and practice.
Journalism classes will be changing next year. There will still be the traditional Journalism 1 writing class taught by the English department, but Journalism 2 is now being morphed into a few different classes for students to take. Do you want to be a part of the broadcast, create and contribute digital media for the school and the yearbook, and cover all things Nashoba? If you do, take the new Communications class or the Intro to Video Broadcast, or Video Production classes. The skills you learn in these classes are transferable to real world jobs and careers.
With the new Wire Cast system set up, you may see some new elements such as split screen pictures. There are endless possibilities, and it's up to the new producers who are taking over for the ever famous Paul Theriault to decide what they want to explore. Paul did a lot for the Chieftain Press, so what will we do without him? Time will tell; however, Paul has been training new producers for the past year who are now ready to take on the task!
What underclassmen will rise up to take on the responsibilities that the seniors had before leaving? We will find out next year. And as we always say, "That's all for this year Nashoba! We will see you in the fall! Enjoy your summer!"