Destination Imagination Challenges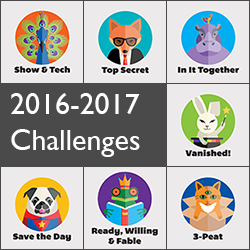 Every year DI gives students 7 Central Challenge options to choose from. This year, 2016-2017, the challenges are named Show and Tech, Top Secret, In It Together, Vanished!, 3 Peat and Ready, Willing and Fable. Each challenge is different in time restraints and what is required of a team to successfully complete the challenge.
According to the Destination Imagination website, the Technical Challenge asks students to use engineering, design, planning and research to present a skit with a technical aspect to an audience and judges. This year's Technical Challenge is Show and Tech.
The Scientific Challenge allows students to combine their science skills and theater arts skills into a performance. This year's Scientific Challenge is Top Secret.
The Engineering Challenge is known for the structure each competing team needs to design and build that will hold weight. Teams competing in this challenge have a limited number of materials to choose from for creating their structure. This year's Engineering Challenge is In It Together.
The Fine Arts Challenge is all about acting and theater arts. Teams write a script and act it out in a performance. This year's Fine Arts Challenge is Vanished!.
The Improvisational Challenge tests a team's ability to think quick and come up with their skit the day of their performance in the minutes prior to presenting. In that time a team must also create props. This year's Improvisational Challenge is 3 Peat.
The Service Learning Challenge brings students closer to their community and evokes students to help with an actual problem in their community. The Service Learning Challenge is Ready, Willing and Fable.
Destination Imagination is great way for a student to showcase their love for one or more branches of STEAM. A student may be pick any of the categories offered to compete in based on their interests and strengths. For example, a student who loves being expressive and acting on stage would consider the Fine Arts challenge. Destination Imagination has a challenge for everyone!