Class Plays Are Here!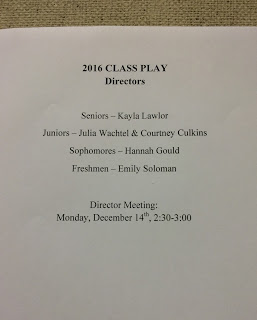 It's that exciting time of year where each grade begins preparing for the annual Class Play Competition. During the competition, each class performs a thirty minute one act play in front of a panel of judges, hoping to win the award for "Best Class Play." Each class play is entirely student run including acting, directing, teching, and stage managing. This year, the directors are being put under much more pressure due to the limited number of techies and zero stage managers. Because of this shortage, directors are now responsible not only for casting, directing, and running rehearsals; but also for deciding on props, costumes, sets, lighting cues, and every other job that comes with running a show. However, directors, actors, and managers alike are looking forward to the competition.
The directors for this year's class plays are Emily Solomon (Freshman Director), Hannah Gould (Sophomore Director), Julia Wachtel and Courtney Culkins (Junior Co-Directors), and Kayla Lawlor (Senior Director). Each director has chosen or is choosing a play for her respective class and is very excited to start the audition process.
The junior class is performing "Murder is Fun!" a murder mystery where an audience comes to see a show and discovers what they're watching actually happened. The audience then plays jury as they try to figure out if the killer is guilty or not.
"It's like a comedy," says Junior co-director, Julia Wachtel. "It's fun and I'm excited to direct it. I would like to think that the juniors are gonna win but I think we have some stiff competition." Another junior, Jessie Harmon, also commented: "We're a very comedic group so I think we're gonna do it justice."
The senior class will be performing "The Most Cliched Elevator Play in the History of the Entire Universe." This play is about an elevator full of "cliche" characters that gets stuck. However, things aren't quite what they seem. Kayla Lawlor, the director of the senior class play, can't wait to start working on the show. "This is my first time directing and I'm pretty nervous," commented Kayla. "Hopefully, the play will turn out well. We have so many talented actors and actresses in the senior class, but the outcome really does depend on how much time and effort they all put into this show."
Another senior, Camden Storey, also the co-treasurer of Nashoba Drama, agrees. "I think the seniors are gonna win because we are the best," says Storey. "With everyone working for us and all the actors we have and directors and stuff I think it'll all come together and be a great show especially for seniors." Storey also believes the class plays "give kids a very different opportunity from the other two plays we do that are directed by adults. It gives a lot of opportunities to the kids who want to pursue directing and other things along those lines" On the new director, Storey is "very excited" to "try new things we haven't done before" and also hopes it will work out.
Junior Jessie Harmon is also exited for the senior's final class play: "They never cease to amaze me," Harmon smiled. "I think last year was their best and I'm really upset that they didn't win but I know they're gonna come back stronger this year and they're definitely going to win."
The sophomores are performing "The Nine Worst Breakups of All Time" which pretty much says it all: "It's stupid but it's funny!" says director Hannah Gould. "People should come see it because it's just like a silly competition but we take it very seriously. It's a lot of fun for us and it's a lot of fun for people to watch."
The class play competition will be held January 29th in the Nashoba Auditorium. Stay tuned for more information to come!