The 2018 Activity Fair- Something for Everyone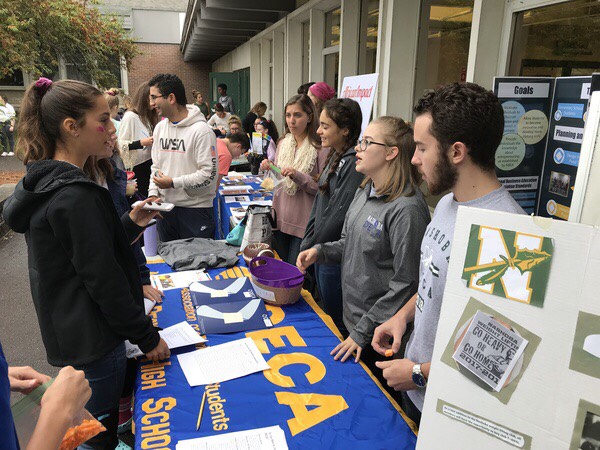 On Wednesday, October 4th, many Nashoba clubs, including GSA, interact, Art club, and Drama club, set up information tables in the courtyard in attempt to recruit new members for this school year. Students were able to visit each table during their lunch period to find out more information about the wide variety of clubs Nashoba has to offer.
The clubs offered various opportunities for students, ranging from using their creative side to helping out in their community to voicing their opinions on many national and international issues.
One of Nashoba's more popular clubs, Best Buddies, earned 115 signatures and has swarms of people at their table for all four lunches. "They should expect to have a great time and they get to feel really good about themselves because they are helping such a great cause," said Betame DeBono, the vice president of Best Buddies.
"I enjoy the people, everyone is very respective of everyone's beliefs," said Emily Doiron, founder of the Women's Empowerment Club, which focuses on equality for women and does several things to help the community. Last year they sold pins and used to profits to donate goods to women's shelters and also gave speeches to young girls about body image.
The activity fair seemed to be a success, thanks to Mrs. Foley who organized the event. The clubs are ready to start of the 2018 school year with their new found members.