Nashoba Boys Basketball Preview
2015-16 Division 2 Playoff Standings
Concord-Carlisle (18-1) .947

Medfield (17-3) .850

Marlboro (16-4) .800

Nashoba (15-5) .750

Medway (15-5) .750

Groton-Dunstable (11-9) .550

Hopkinton (10-10) .500

Holliston (10-10) .500

Milford (10-10) .500
This years Nashoba Boys Basketball team is set for a great season. With 10 of the 14 rostered players returning, Nashoba is climbing for success. With the loss of Andrew Snoddy (Rivers School), Wyatt Boelens (Bryant University), and Tony Kennon (Carnegie Mellon), the team is returning key players such as captain Nate Mansour, senior Andrew Fish, junior Justin Pierce, 6'5" sophomore Connor Ojerholm, and newly named captain Trevor Manyak. Manyak has been on the team since he was a sophomore, though he only played in three games for the squad. He has a shown incredible improvement over the past 2 years. He has become a much more mature ball mover and shooter.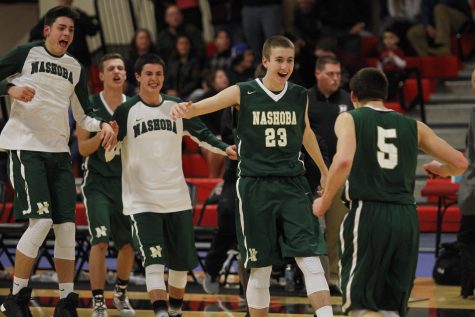 The newly named captain grew up in Bolton playing for various team such as his middle school basketball team at Sawyer and now for Worcester Team United. Last year, Manyak who stands at only 5'10", finished the season with 205 points, which landed him 8th in the league. His 8.5 ppg (points per game) was a career high for him. "Trevor has grown to be a really great player" said senior Andrew Fish, "He has become a very good leader."
One of the few returning players who isn't a senior is newly named junior captain Justin Peirce. At around 6'2", he had a huge impact on last year's success. As a sophomore, he led the team with 323 points. and 13.5 ppg. "(Justin) is an all around player, I don't know how else to describe him. He is good at everything." said Manyak when talking about Peirce. His 323 points is the most by any Nashoba player in the last 6 years (statistics provided by the Worcester Telegram). Provided he keeps on pace with his progression, Peirce is looking to have a great junior season.
Another key to this team's progression is Coach Daniel Ortiz. This season will be his 5th year with the team. When Manyak was asked to speak about Ortiz, he had some encouraging praise: "Nashoba Basketball was just not very good before Ortiz… He brought this team to where it is today… He is a really good coach, he knows what he is talking about, and he knows how hard to push us." Coach Ortiz, over his last four years, has a record of 54-32. His first year, he brought a team that went 6-13 to a team who was 3rd in Mid-Wach B and finished 12-9. Ortiz's talents are fully represented by his record, but also by how his players speak about him and his reputation.
After finishing 15-5 this past season, with their playoff stretch ended at the Central Mass semi-finals by an incredibly strong Concord-Carlisle squad, this team returns almost the entire team. This is very rare to see in any sport, where the team has only graduated two seniors and lost one other player, and the team is optimistic. "We are looking pretty good," added Manyak. "Look out for us because we're gonna' go hard."