Showdown of the Unstoppables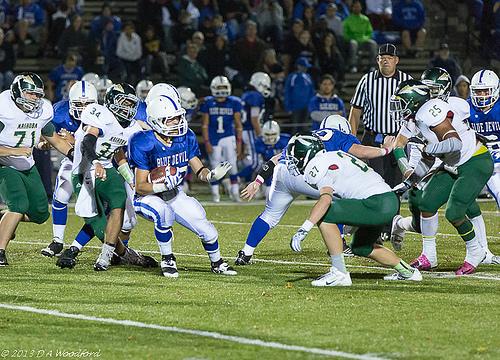 Coach of only three years, Jaime Tucker believes he has a team that can turn the tables and become the state's best once again. Friday the 16th marked the glorious win of the Nashoba Chieftains against the Leominster Blue Devils with an ending score of 27-28. Throughout the 2 hour game, fans were biting their nails as the two undefeated teams fought back and forth with touchdowns, never being more than a few points apart. Coach Tucker says "This was just a great high school football game, probably the best one that I've been a part of in my three years here,"
The Blue Devils were predicted to come out with a win against Nashoba who has been predicted to lose almost all of their games this season. The Chieftains have been proving wrong left and right, continuing their 10th straight win dating back to last season.
Before the game, Coach Tucker shared, "Leominster has a great football program and coach (Dave) Palazzi will definitely have them ready to play. They're always tough, and they're one of the best in the area."
Yet, they weren't tough enough to shut-out the mighty Chieftains. Coach Tucker says "You play high school football for games like this, games that are fun and against great competition. Leominster has a great football team. But we came out one point ahead of them. I'm very proud, so proud of our guys."
Coach Palazzi  shares he "thought we played well to come back and keep fighting, just came up one play short."
Senior quarterback Robby Atwood, who made every play presented to him, finished with one of the more interesting stat lines you'll ever see: "3 of 3 passing for 80 yards and a touchdown, plus two carries for three yards and a pair of touchdowns". "Robby's a great kid, just a cool customer," Tucker said of his quarterback. "There's nobody I'd rather have playing quarterback for us right now." In one of the greatest plays of the night, Atwood made a fake play and lobbed a ball right down the field to senior receiver Tony Kennon, whose closest Leominster defender was almost 20-yards away, for a 45-yard running touchdown.
Nashoba will continue on to play Fitchburg with home field advantage at 7:00 on Friday for the Mid-Watch A finale, a win would lock in the title and move them one step closer to the state championships.