Near and Far with Ben Skaar – Local Hikes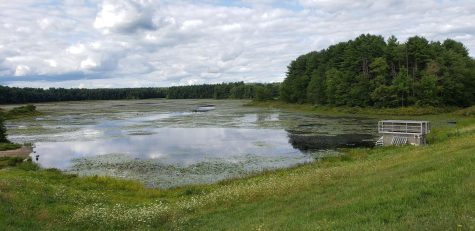 Spring is here and its lush greens are not far behind! As the leaves appear on the trees, let's look at 5 amazing places you can get out for a hike or walk in the coming months. Whether it's with some friends or with your family, there are so many amazing local trails to choose from. I've also attached the alltrails links for each location to assist with your experience on location!
Delaney Pond, Stow – 316 Harvard Rd, Stow, MA 01775
Towards the eastern end of our district you can find the Delaney Wildlife Management Area, which offers a beautiful 580 acres of pristine walking and biking trails. The complex is managed by the Mass Audubon organization, who also focuses on protecting the abundant wildlife in our area. Parking is located right off of Harvard road, where you are immediately met with expansive views of Delany pond. Once parked, make your way on the main trail to the left, which will bring you to a large clearing and many directions to choose from!
https://www.alltrails.com/trail/us/massachusetts/delany-pond
Assabet River National Wildlife Refuge, Maynard  – White Pond Rd, Maynard, MA 01754
Across the Assabet river you will find one of the most magnificent natural areas in all of Massachusetts. The ARNWR encompasses 2,360 acres of forests, and has a very rich history. Within the refuge, there are 50 WW2 Ammunition storage bunkers which were built in 1942. This site was chosen due to its vicinity to the railroad, yet it was far enough from the coast to avoid shelling from German Navy ships. Today, many of the bunkers still remain in good condition, and although interior access is prohibited, they are still fascinating to view from the outside.
To access the ARNWR, you can park either at the White Pond Road entrance in Maynard, or from Winterberry Way in Sudbury. You can access the Alltrails link below to read more about the refuge and the trails it offers. 
https://www.alltrails.com/parks/us/massachusetts/assabet-river-national-wildlife-refuge
Bowers Springs, Bolton – 44 Flanagan Rd, Bolton, MA 01740
Bowers springs is the definition of a hidden gem. Found off the backroads of Bolton, this quaint little pond is perfect for a morning stroll and a breath of fresh air. The loop itself is around 0.8 miles, dog friendly, and you likely won't encounter many other visitors. It is especially picturesque during fall time when the leaves begin to turn.
To access this trail, drive to the parking lot at the end of the Flanagan Rd and make your way towards the line of trees.   
https://www.alltrails.com/explore/trail/us/massachusetts/bowers-spring-trail
Cook Conservation Area, Lancaster – 42.493718, -71.686320
Right off Lunenburg road (Route 70) is the prized Cook Conservation area, a 4.5 mile loop leading towards Leominster. The trail starts off winding along a sandy river bed, with multiple picnic benches for you to stop and take in the views. As you make your way farther in, you find yourself surrounded by Japanese knotweed which, while invasive, creates a very lush environment.
An important thing to note is that parking can become scarce as the day goes on, especially in the lot off of Route 70, so make sure you anticipate some delays when finding a spot!
https://www.alltrails.com/explore/trail/us/massachusetts/cook-conservation-area-loop
Bicentennial Trail, Wachusett – 254 Mountain Rd #210, Princeton, MA 01541
Last on this list is Mt. Wachusett via the Bicentennial trail. This is the most demanding hike on the list, with a little over 1000 feet of elevation gain. You start the hike at the Mountain House Trail parking; make sure to pack sufficient food and water for your hike. The trail is mainly dirt with intermittent rocks and some stone steps at times, and brings you all the way to the top Mt. Wachusett. You get 360º views of central Massachusetts, the perfect place to sit back and enjoy lunch.
While at the peak, make sure to check out the fire tower and surrounding viewpoints! As many readers know, Wachusett Mountain is also a ski resort in the winter, so it's possible to see the lifts when not in use as well. 
https://www.alltrails.com/explore/trail/us/massachusetts/mount-wachusett-via-bicentennial-mountain-house-old-indian-west-side-semuhenna-and-