Justin Peirce Hits 1000 Point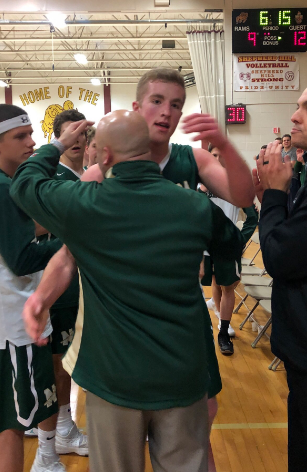 This past Friday, February 9th, Nashoba senior Justin Peirce hit his 1000th point in their game against Shepherd Hill. Peirce is now the second male in Nashoba basketball history to reach 1000 points. Justin has been a major contributor to the boys varsity basketball team since his freshman year, and he has been a great captain and leader throughout his junior and senior years. At the beginning of the Shepherd Hill game, with a score of ten to nine, Justin scored his thousandth point after receiving the ball from his teammate and completing the play with a lay-up, putting the team up twelve to nine. Though Nashoba lost to Shepard Hill on Friday, they were still proud of their well-fought battle and the historic game for teammate Justin Peirce .
Throughout the past four years, Justin has averaged over twelve points per game and has proven himself to be an excellent three-point shooting guard. During his junior year in the 2016-2017 season, Justin was the team's leading scorer and won the player of the year award. Peirce helped lead the 2-16-2017 team to the state championship against Longmeadow high school.
This year Justin started off the year on a low since he was injured with a foot issue setting him back and keeping him from playing. Peirces response to when I asked how the injury effected his play, he elaborated that "being injured sucks" he also said, "I never really knew what it felt like until this year and realized that it was way worse then I ever imagined. Now that I am back, I am much more grateful to be able to play everyday and I believe the gratitude has made me play harder."  He was out for the first couple of games and his comeback was outrageous helping the team beat Westborough, Fitchburg and more teams in their league.
Justin has been playing basketball since he was in 4th grade. I asked him how hard he worked to achieve this goal. "I have put a lot of time and effort into the sport, but I wouldn't call it "work" because I have always and will continue to love doing it." Now that the season is winding down with only two games left, he talks about his overall experience with Nashoba basketball and says, "there's nothing better than being a Chieftain. I wouldn't trade it for anything."
When you see Justin in the hallway make sure to congratulate him on his 1000th point and an amazing career here at Nashoba.