Class Plays
On Friday February 3, 2017 Nashoba put on its annual Class Play competition. Where each grade puts on a play picked, auditioned, preformed and directed  by members of each of the classes. This year Shaun Bannon even wrote the play for the senior class. The Senior class play was called Day One, the Juniors' was called 16 in 10 minutes or less, The Sophomores' was called 4 am, and the freshman performed Lockdown. This year Nashoba's teachers added something new; they also put on a performance, with key roles coming from Mr. Hunter, Dr.T, Mrs. Glenister, Ms. Eagan, Mrs.Doyle and Griff. They put on Wherefore Art Thou Romeo. All the classes and the teachers  did an amazing job at putting on their plays.
The Juniors went first with their director having to fill in for a sick actor and memorizing the lines in 2 hours. Colby Storey was the hero of the night and helped the show go on. The audience was filled with laughs, confusion and sorrow as they saw the interesting and quirky adventures of the teenagers, from a girl talking to her dead dog to a nightmare.
The Juniors were followed by the Sophomores, who put on a show about experiences at 4 in the morning. The show jumped between a bunch of parallel story lines involving a radio show, a dream, and a monster.
After intermission came the Freshman. They put on an intense play about a school going into lock down. Their teacher ran off and they are stuck in a room feeling lost and scared. The tension builds between the characters as the fears starts to get to them.
Finally came t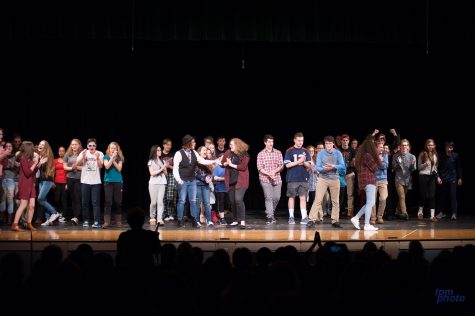 he performance by the Seniors. The audience was full of laughter as they watched a 23 year old teacher bumble his way through his first day working as a new English teacher in the school. Through his nerves, voice cracks, and difficulties, Sean Bannon lead the seniors through a raucous performance.
For the first time in Class Play history there was a tie for first place, but like usual it ended up going to the Seniors, who put on a spectacular performance with their hilarious play written by Nashoba's very own Sean Bannon. The Sophomores fought a hard fight, beating both the Freshman and the Juniors and almost pushing the Seniors out of first place.
Each year 4 awards are given to individuals for their contributions to the play; this year they were best featured actor, best featured roll went to Junior, Cat Smith. The award for best director went to the freshman director Katie Coen. The sophomores won best ensemble The best featured lead award went to Senior Sean Bannon. Thanks to all students who spent time putting on these amazing performances!