Nashoba Girls Soccer – New Season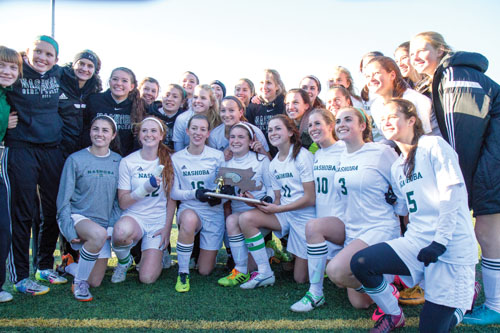 When people think of fall, they think of trees changing colors and football games… but here at Nashoba, soccer enthusiasts think of the high-spirited Nashoba Girls Soccer program.
The NGS program is known for it's Division A Varsity team and it's dedicated participants. Girls from Bolton, Lancaster and Stow merge together to form our regional high school, which is always pretty scary for the freshmen. NGS made making friends from other towns easier and provided more upperclassmen to reach out to for advice. The team puts together a summer program every year, and that really helped familiarize freshmen with their teammates before the season. Overall, NGS made freshman year more enjoyable.
Many pictures were taken that year because of the spirit days that were engineered by the seniors. A couple of the famous spirit days include USA day, One Color day, Pajama day, Blackout day and Nashoba day. A couple of the fundraisers NGS participates in are the Alison Murphy 5k, a Youth Girls summer camp, and an annual car wash. Alison was a dedicated member of NGS before she got into a tragic ski accident. All the funds go towards her scholarship award. Tradition is that the team runs together in a group and even stops at Alison's house to meet her mother.
Right from the beginning, the girls' soccer schedule is packed to the brim with fundraisers, team bonding and almost twenty matches. An important game is the one against "The Gonk." Algonquin Regional was one of Nashoba's biggest rivals even before Varsity Coach Renee Moulton started coaching. Moulton is originally from the area and even teaches at Algonquin. Despite coming to coach her bitter rivals, she had a very successful first season with NGS last year. The Varsity team came away with thirteen wins, three tie games, and two losses (13-3-2). Moulton is keeping up the same intensity this year.
Everyone can tell she is expecting great things from the team, and sophomore Ashlyn Maclure has the same high hopes.
"I think we are still getting used to each other, but once we get started we will hopefully bring home the State Championship," Maclure said. The enthusiasm keeps coming – sophomore Sophia Greszczuk adds, "We have a ton of spirit! We support each other everyday and push each other to get better."
The positive attitude of the upperclassmen and the accepting atmosphere of the NGS program drew in eighteen freshmen this year. All eighteen have adopted the hard working attitude of the older players. Freshman Katelyn Keane, high scorer of the JV1 team, is having a great time being a part of the program. "Everyone is really nice and our team is doing pretty well," Keane said. "We do a lot of team activities, which is awesome! The upperclassmen are all really nice and seem pretty approachable… they are always saying that if you need anything to just come and ask them."
The freshmen on all teams have taken homework and the packed NGS schedule in stride. The rest of us are used to the craziness of practice 3 p.m. to 5 p.m. every day. All the sleepy bus rides back from away games and getting home from practice at 5:15 every day… it's worth it because being part of a dedicated team is something really special. I couldn't have put it better than Maclure – "NGS rocks!"