Hole In the Wall: Main Street Bagel Factory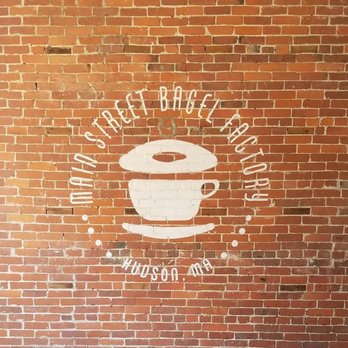 The Main Street Bagel Factory is a new restaurant that opened its doors this past summer. They are open Monday through Sunday from 7 am- 4 pm and are located at 51 Main St. in Hudson. It's a great place to go grab a quick meal after school or enjoy a sweet treat during the weekend.  They are located in the heart of Hudson, down the street from the well-known Railtrail Restaurant and near the 641 Cafe. On TripAdvisor, one pleased customer who rated the cafe with five starts wrote in their review  "another restaurant gem in Hudson".
Their menu is listed colorfully on chalkboards hanging on the wall above the registers. They offer a variety of drinks including coffee, frappes, and cappuccinos in many different flavor options. They boast about baking fresh bagels daily, though they offer so much more than just bagels, including baked bread with which the customer can create the sandwich of their choice. The offer breakfast bagels, sandwiches, and subs, along with a number of soups. They also serve a range of baked goods consisting of donuts, muffins, and croissants made fresh on site. Other desserts are offered as well, such as Greek deserts and slush, which is something similar to Italian ice.
Outdoor seating is offered as a nice place to relax and enjoy the food and drinks. The Main Street Bagel Factory also has a mixture of seating inside, from counter seating to tables. The environment offers a place to conduct a small meeting to read, study or just enjoy what the menu has to offer. The Main Street Bagel Factory is a fun new place to try out next time you find yourself in or around downtown Hudson.