Hurricane Irma's Damage in Florida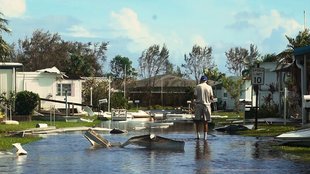 Florida has been waiting in anticipation for Hurricane Irma, which touched down on the morning of September 10th. Hurricane Irma has turned into a tropical storm with winds reaching up to 110 mph. Irma is heading north, and leaving a path of fallen trees, broken power lines and destroyed homes. Irma hit Florida as a category 4 hurricane, touching down in the Keys, as she moved north, Irma became a tropical storm, entering Georgia and Alabama with strong winds and heavy rains. In the United States, two deaths have been confirmed due to Irma, according to CBS News, and dozens in the Caribbean. The brunt of the storm hit the Keys, which was left devastated. Seventy two percent of homes are without power (residence of Florida Keys), and sixty two percent of Floridians are without power.
There are dozens of organizations that are focusing on supporting Irma victims. People are collecting money, clothes and supplies to help cushion the damage that Irma has caused. Volunteers will also be sent to Florida to help reconstruct the state. Donations to Unicef, which focuses on relieving school children, American Red Cross, which donates blood to victims, and Oxfam America, are encouraged. 
With all the casualties, damage, and large magnitude of the storm, many people have compared Irma to hurricanes Andrew and Wilma. Hurricane Andrew hit in 1992, took 26 lives, and left  250,000 people without homes. The cost to reconstruct was $25 billion, and scarred Floridians for years. Hurricane Wilma struck in 2005 and reached $20 billion in reconstruction in Florida alone. According to Hurricane science, the death toll of Wilma in Florida was estimated to be six, and the overall total Wilma deaths was in the mid twenties. Although Hurricane Irma is still impacting the United States, damages are currently estimated to be around $20 billion, solely in Florida, according to The New York Times.  Death tolls are also uncertain, but according to the Times, Florida's casualties is at least a dozen, but including the Caribbean, death tolls reach about fifty-five.
Hurricane Irma was a devastating blow to Florida and the Caribbean. Any donation, big or small, is appreciated. There are thousands without homes and power, and the Caribbean is bracing for Hurricane Maria, while we Northerners brace for Hurricane Jose. 
Picture courtesy to New York Times