Boredom Leads to Accidental Fire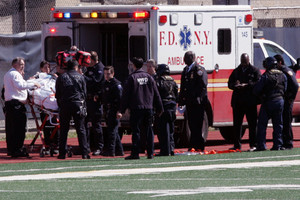 A sixteen-year-old Coney Island resident set a mattress on fire,  Monday, April 7th, due to "boredom", nearly killing two police officers. When Marcell Dockery had nothing else to do on Monday, April 7th, he set a mattress on fire, and tried desperately to put it out to no avail. This occurred in a housing project, on the thirteenth floor.
"Then he started knocking on doors — he has cousins on that floor — to get people out of there," a source tells officer.com. "Then they ran out of the building, and he was trying to make it seem like he was a hero."
While emergency personnel hurried to provide their assistance elsewhere, two police officers simultaneously required assistance themselves. While the toxic carbon monoxide filled their lungs in a lethal manner, they radioed in for life-saving backup.
According to Boston.com, "The officers were responding to the fire Sunday afternoon when they were overcome by carbon monoxide and smoke. They were found unconscious in a 13th floor hallway," Upon backup's arrival, one of the officers had collapsed into cardiac arrest. He and his partner were rushed to the hospital in critical condition; their current conditions still unknown.
Dockery was arrested on charges of assault and reckless endangerment, and was held without bail. He has had previous encounters with the law, including charges for criminal mischief and pot possession.
Picture courtesy of officer.com