Integrated Track is in Full Motion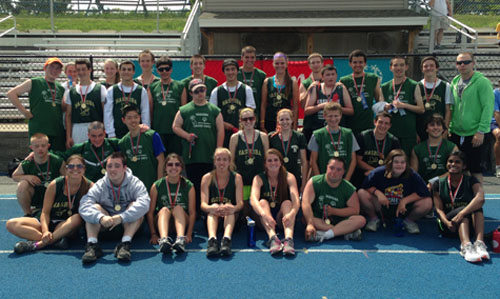 Nashoba's  integrated track started up yesterday, and the reigning State champions are full of enthusiasm.
"All the Buddies are super excited", said head-coach Ms. Wandell. "All of them have been asking me during the day, 'Ms. Wandell did you know that Track starts today? And I'm like yes guys… I know'".
Ms. Wandell was a former track star in high school and went on to do track at Southern New Hampshire College. It is safe to say that they have a coach qualified enough to lead them to the Championships again.
Winning it all this year is certainly one of the big goals for the team. Mrs. Kalinowski, an assistant coach, says that "for the past two years we've held the district title for large schools. We're really looking forward to upholding that title."
Although the team has been very successful in the past and they would very much like to win the title again, they also understand that strategy and hard work are essential. There's a specific work schedule at practice for all the athletes. The team members will switch from doing endurance building exercises for the running events, and then honing their skills for the field events.
Apart from winning it all and training hard, there are other reasons people have decided to do integrated track this year. While Mrs. Kalinowski knows that winning is a major goal for the athletes, there will also be a greater focus on "building the relationships with our buddies and the peer athletes than there has been in the past."
Alexa Giordano is one of the peer athletes and she is very glad that her work schedule has lightened up this spring so she can join the team. "I started working with a little boy with autism this year." says Giordano. This new job has been a large factor in her decision to help out with integrated track team. She's even " thought about bringing him by this year to see the team."
With a new head coach, Ms. Wandell, the team may have some adjustments to make, but their first practice did seem to run quite smoothly. Everyone participated in their workouts with great enthusiasm. It was all smiles as the team ran the stairs to improve their endurance. That is Ms. Wandell's main goal in the end. "I want everyone to be able to say that they improved," says Wandell. "That's always the biggest thing. And also for everyone to be able to say that they had a good time."