Ms. Rich is Named Best AD Of The Year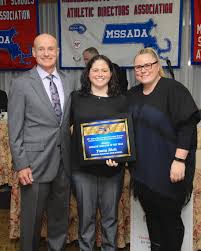 On March 29th, 2017 Ms. Rich went to the MSSAD 2016-2017 conference in Cape Cod. Ms. Rich was presented with the award of Massachusetts Athletic Director of the year.  Ms. Rich has been Nashoba's athletic director for the last six years . Before being an AD she was a 5th grade teacher at Luther Burbank School in Lancaster; she worked with kids who now are in high school and has built relationships with most of them over the years.
Ms. Rich always supports each sport team and hopes to make them better everyday by showing up to every sports game or tweeting out wishing teams luck. She not only helps the high school teams but also the middle school athletics with scheduling games.
Her office is always open to players with issues, ideas for the program, or just to talk about their successful team. Gina Hinckley, the captain of the softball team, had a lot to say about Ms.Rich. "She always pushed me to do better and freshman year I was cut from the soccer team and the following year I didn't want to try out, but she convinced me to and I made the team. She is a role model and I wouldn't have made it through High School without her."
Ms. Rich inspires kids to work hard inside school as well as outside; Trevor Manyak, a captain for the boys basketball team and also a spirit captain remarked, "Ms. Rich is unbelievable, she has helped me become a better player and looked out for me in the classroom through out the time I have been at Nashoba." Trevor went on to say, "she makes sure we have the best facilities and achieve what we did [during our seasons]. But the best was her packing the gym, no matter where we played with fans."
As many are aware,the Nashoba basketball team made it to the finals and became district champs, making history. In each game, on the road or at home, the fan section was always hyped, all because of Ms. Rich, who set up fan buses and tried to get as many fans as possible to each event. The selling of t-shirts and tickets for the games was organized by Ms. Rich which helped increase Chieftain pride and ability to support one another.
Ms. Rich is all about leadership and is always pushing her athletes to be a leader. She sets up camps and leadership events for the athletes to participate in and also includes future captains. She also sends student athletes to MIAA workshops. Breese Hill, a junior and a future captain of the football and basketball team, says "She sets a great example by being a leader in the community and in the school. It really helps seeing that and being able to translate that to my teammates and classmates." She takes pride in what she does and it effects players in many ways ,by creating a bond with the athletes and being supportive of them.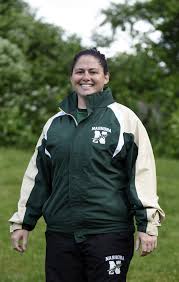 Ms. Rich has a big impact on the best buddies here at Nashoba, scheduling unified track and letting the best buddies participate in team practices and games, letting them have the opportunity to get to walk on the field and stand with the football team or sing the national anthem at games. It brings heart to the environment and gives every athlete a reason to love the sport and shows how as a Chieftain no matter who you are or what activity you do, we all are one.
Ms.Rich is not only close with the players but she is close with the coaches and staff that is part of the Athletic Department. Weather it is in or outside the community Ms. Rich has been known for always having a great attitude and being hard working. For every coach can personally say that Ms.Rich has been always a huge help to them and gives every program many opportunities. Mrs. Doyle a teacher and a  varsity volleyball coach says " I am so glad she hired me and gave me the opportunity to coach at Nashoba. She has supported  me and my coaches by sending us to clinics and purchasing equipment that we need. She is always there to help work out a problem and help me think about the best way to grow my program." Volleyball being a new sport added to Nashoba athletics and has been excelling  greatly over the years because of Ms. Rich. "  Over the years each sports team has had many accomplishments. If you look in her office and in the hallways the amount of state championships, district championships and league champs are on her wall all from the time she has been here is incredible. Nashoba is known for great sports, great coaches and good athletes but it is all possible because of Ms. Rich.
All around Ms. Rich deserved this award as many coaches including coach Doyle can agree on that "She is always encouraging working with every team and athlete that needs assistance. All on her own. She puts in more time than anyone I know. Her dedication to Nashoba Sports is remarkable." She truly shows what it is to be not only an athlete but a Chieftain.