An Interview with Comedian Chris Fleming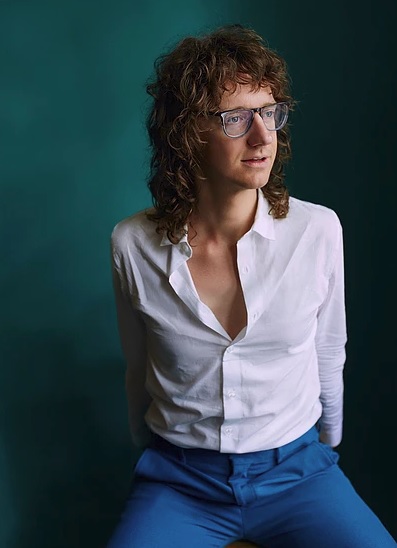 Arriving onstage in a conspicuously unworn grey suit, Nashoba graduate and Stow native Chris Fleming was greeted by the roar of a sold-out audience at the Wilbur Theatre in Boston on Thursday, March 9. Fleming is an SAT-tutor turned comedian who's garnered a significant fanbase from his webseries, Gayle, and other popular online videos. Recently, he's been touring his latest special, Chris Fleming: Show Pig, around several U.S. cities to huge crowds, including a very interactive one in Boston.
Fleming was happy to engage with his audience throughout the show, responding to screams of "Nashoba!" or "I love you!" with improvised quips that had the theater in stitches. One bit focused on an awkward interaction between his father and his childhood soccer coach, and another on his pitches for alternative versions of La La Land. The show was an eclectic mix of standup comedy, original songs, characterizations, and more, all filled with the bizarre and distinctive humor that Fleming is known for. After the performance, Fleming stood in the Wilbur's lobby to greet and take photos with fans, who queued up inside the theatre in a line going out the door.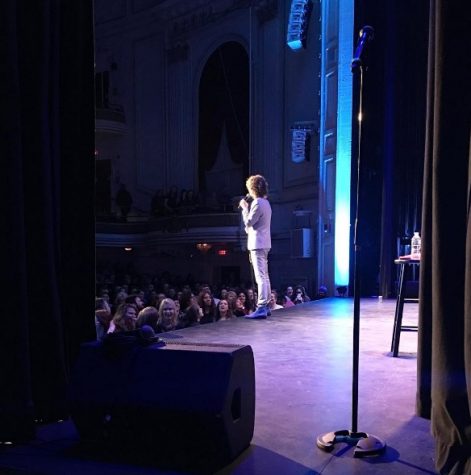 The Chieftain Press interviewed Fleming over the phone about his upbringing, current tour, and plans for the future. Fleming spent time reflecting on his less-exciting beginnings in local comedy, joking "I performed in many an Elks Club back in the day… you'd get like fifty bucks to go to an Ipswich Elks Club and lose money 'cause of gas." Massachusetts culture like this has inspired much of Fleming's work, most notably Gayle, a webseries about an intense suburban mother creating constant rancor with those around her. "I think that's the first thing you want to mine when you're creating stuff," Fleming said about his formative years. "It's the time when you're the most vulnerable and, like, the least capable of putting it into words… like, at the prom, when everyone's shrieking the lyrics to Baby Got Back and you're just disassociating." Fleming found that turning his teenage anxieties into art proved therapeutic and allowed him to make peace with them. "Being from a place where there's just no culture," Fleming added, "you have to kind of mythologize it in a way, so you don't give yourself to the ocean."
Fleming shared insight regarding his recent rise in popularity. "There's a corner that I only recently turned, like a year ago, maybe… like, I was surviving, but kind of eating-pastries-out-of-the-trash surviving, during the later Gayle years. I was tutoring SATs in like 2012… it was looking bleak for a little while. That's the thing about the arts, it can get super bleak, but then all of a sudden you turn that corner, and it's hard to even remember when things were that spooky." Selling out the 1200-seat Wilbur Theatre is quite an improvement for the comedian, who joked that the theaters he used to rent were more like "Bank of America vestibules." Fleming elaborated that his current lifestyle is more relaxed and less frantic than his earlier years in comedy.
"My formula lately has been testing stuff out live, and then turning that stuff into videos," said Fleming. "But you don't want to be like a forty-year-old YouTuber… I'm hoping to break through this latest standup show and see if I can get something like Netflix potentially interested. That's the team's goal right now, but also to always be attentive to that online fanbase. That's kind of my plan, I guess." Comedy fans can follow Chris and receive updates on his videos and live shows on YouTube, Facebook, Twitter, and Instagram.