Erin McNemar Can Probably Jump Over You.
Over the course of her four years here at Nashoba, senior Erin McNemar has tackled quite the array of challenges. Through three seasons of indoor track and four of outdoor, McNemar has managed to acquire a whopping 24 medals, two league all-star pins, four varsity bars, countless first-place ranking, seven trips to the post season meets, and has matched the school record for indoor high jump once (in junior year) and broken it three times (all in senior year).
McNemar started participating in track and field in the third grade with the Hershey Track and Field program. Upon aging out of in sixth grade, McNemar joined the Hale Middle School track and field, which is when she met the man who would be her coach for the next seven years, Ben Langelo.
"Erin is an incredibly hard worker – she is one of the most dedicated athletes I have ever coached," says Langelo. "She has gone out of her way to take our younger jumpers under her wing and mentor them, helping to carry on her legacy to the next group of athletes."
In middle school, Erin participated in the high jump, 100m, 200m, hurdles, discus, and, on occasion, the 4x100m relay. Since then, she has trimmed down her list to just the high jump and the 4x200m relay for the indoor season, and high jump, 200m, and the 4x100m relay in the outdoor season.
"My first two years of track I didn't really take it super seriously, but then I got injured and it kind of made me realize how important track is to me," says McNemar. "Then I started working very hard and I'm very happy with the payoff."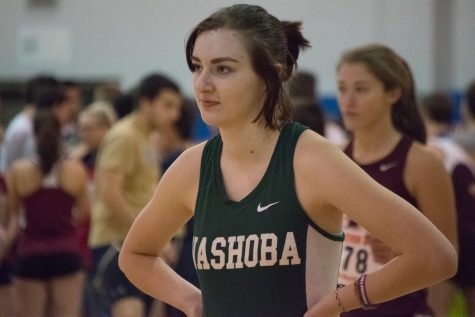 These past years on the Nashoba indoor and outdoor track teams have proved to be quite the fruitful adventure for Erin, as she has propelled herself into the spotlight. This past indoor season, Erin was the only Nashoba athlete from both boys and girls track to advance to New Englands, earning herself the title of 11th place in all of New England and 4th place in the state. In one four month season, McNemar managed to break the school's indoor high jump record a whopping three times, as well as placed in every regular season meet, making her into a vital resource for the team's points.
"The first time was probably the least exciting because I had already jumped 5′ 2″ last season so 5′ 1″ didn't really seem like as big of a deal. Then 5′ 2″ happened and that one was pretty exciting because it was only the second time I had jumped that high and I matched my PR from last year. Then I jumped 5′ 4″ which was definitely the most exciting, because I broke my personal record and it put me in a really good position to break the outdoor record."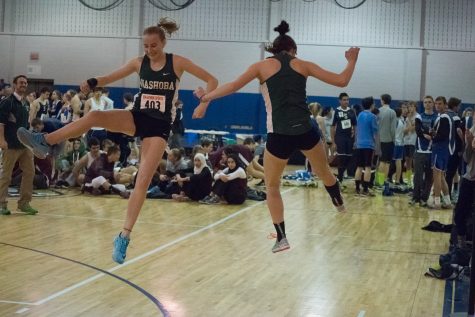 In the future years of her track career, Erin wishes to "keep jumpin' higher" and will join the Keene State College girls indoor and outdoor track team this fall. At Keene, she is also going to pursue a major in journalism with a concentration in news media, alongside a double minor in marketing and psychology.