The 2017 Academy Awards

 This year's Oscars was undoubtedly surprising, with plenty of memorable moments. Most controversial was the shocking mistake for Best Picture during the final moments of the night. Warren Beatty and Faye Dunaway, longtime partners in crime as the original Bonnie and Clyde, announced that the blockbuster musical La La Land had won Best Picture. After three speeches had been given by La La Land's producers, Jordan Horowitz, another producer for the movie, casually stated that the musical did not in fact win Best Picture. After a few moments of surprise and awkward silence, Horowitz repeats that this is not a joke and holds the envelope in his hands, pronouncing Moonlight Best Picture. As members of La La Land are essentially pushed off the stage, director Barry Jenkins rushes through his thank you's in complete and utter surprise. Both casts were extremely gracious towards the other in this massive mistake, demonstrating the great qualities in the industry that the Oscars strive to highlight.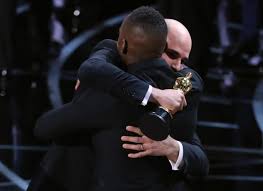 Surprisingly, the Best Picture debacle was not the only mistake of the night. Sara Bareilles gave a heartfelt tribute, singing Joni Mitchell's "Both Sides Now" in order to remember the people lost in cinematography in 2016. There were many wonderful memories held with the photos of beloved stars such as Carrie Fisher and Gene Wilder. However, Janet Patterson, an Australian costume designer who died in 2015, was not pictured in the memorium. Instead, Jan Chapman, a still working Australian producer, was featured in her place. In response to the tribute, Chapman told Variety, "I was devastated by the use of my image in place of my great friend and long-time collaborator Janet Patterson…I am alive and well and an active producer." The mistake was extremely offensive to Chapman and did not resonate well with fans and friends of Patterson's work.
Other major highlights of the night include Damien Chazelle becoming the youngest director to win for his film La La Land, a big favorite amongst moviegoers. The film won six Oscars, which is surprisingly low considering the fourteen nominations given to the movie. This makes La La Land tied with All About Eve and Titanic for most nominations ever for the Academy Awards. Other big wins go to Viola Davis for her heartbreaking performance in Fences, as the betrayed wife to actor Denzel Washington, winning Best Supporting Actress. Casey Affleck, of Manchester by the Sea, and the Academy have received considerable criticism leading up to and following his win for Best Actor due to two sexual harassment allegations that have been leveled against him. Brie Larson, who previously won Best Actress last year for Room, a story about a sexually abused woman, presented both Affleck's wins for the Golden Globes and the Academy Awards and refused to applaud his Best Actor win.
The event showed some star-studded performances, such as Justin Timberlake, John Legend,  Auli'i Cravalho, and Lin-Manuel Miranda. Jimmy Kimmel, the rookie host of the night, followed Timberlake's performance with some funny political comedy to lead the night along. His fierce rivalry with actor Matt Damon was incredibly entertaining. The feud came to a climax when Ben Affleck and Matt Damon were announced as Ben Affleck and guest when presenting the award for Best Original Screenplay. He also featured other funny comedy acts including a special edition of Celebrities Read Mean Tweets and a featured tour of the Oscars for some tourists in Los Angeles. The Oscars was filled with laughs and surprises, and will certainly be an unforgettable night for years to come.