Spring Break: Where to Go and What to Do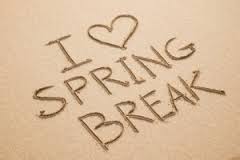 With spring fresh in the air and winter slowly making its way out, spring break is on the minds of many at Nashoba. Although college students have taken over the meaning of spring break, high school students are still eager to get out of school for a week, put up their feet, and relax in the sun.
Nashoba's high school seniors will soon be freshman in college and may be wondering the hot spots of spring break. Other students may just be looking for some where to relax and have a good time.
Brittney Seekins, a freshman at the University of Maine, shares that she went to the Dominican Republic with family and friends for her spring break.
"We stayed at a resort on the beach. It was called the Hard Rock, and they had music playing constantly. The weather was perfect; it was low 80's all week," seekins said. "It was probably the best vacation I've ever been on!"
Although a relaxing week in Central America sounds marvelous, the expense for such a lavish vacation might be too much for high school students and their families. Financesonline.com shares some affordable ideas for a stress relieving, yet exciting spring break. Ideas include road trips across country or down the coast.
North Carolina, for example,  is a great place to visit, the beaches aren't too crowded and the water is warm enough to take a dip. Nashoba Senior, Nate McNeil, shares that he will be going down the North Carolina this April to visit his family.
Hannah Feakes, a junior, says she is going to the caribbean, a nice tropical place to put your feet up.
If traveling doesn't sound intriguing, don't be upset, there are plenty of other ideas for a fun break. Merissa Kouvo, a senior, tells the Chieftain Press that she isn't going anywhere, instead she has a Dutch exchange student coming to her house for a visit.
April break is fast-approaching, but don't worry if you haven't yet made plans to travel. Sometimes, the best way to spend a vacation is relaxing at home and spending time with family and friends.