Olivia Hurd, Star Athlete, Star Student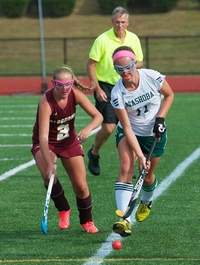 Olivia Hurd is the definition of a hidden gem. Olivia presents herself with such a grace that it may come as a shock that she is a force to be reckoned with on the field and course. She plays sports year round, and juggles the intensity of varsity and club teams with challenging academic classes.
Olivia currently plays field hockey, and she cross country skis. She played lacrosse from fifth grade to tenth grade but recently decided to focus more on field hockey. Olivia is not the average high school athlete; she has a remarkable thirteen varsity pins and she is only a junior. She collected so many pins throughout her three years here by being named a field hockey all-star her freshman, sophomore and junior year, as well as captain her junior year. She was also a lacrosse all-star her sophomore year.
She aspires to continue her field hockey career into college and has set herself up for collegiate success already with impressive classroom performance.
In an interview Olivia talks about her classes here at Nashoba, "I'm taking Accelerated US History, Honors English, Honors German, AP Stats, AP chemistry, and Honors Pre-Calc". It seems almost impossible that Olivia would be able to excel in all these classes, but she does. As proof of her academic excellence, Olivia has been a member of National Honors Society since her sophomore year.
Olivia doesn't do it all on her own, though. Her family is her backbone and their support means a lot to her. Olivia talked about her biggest supporters. "Probably my parents, they're always at my games," Olivia said. "My siblings too, they come when they can. They're really busy as well. My friends too, they're all great they're all really supportive, my teammates and my coach too".
Dedication is an obvious character trait of Olivia Hurd. But how does she do it? Olivia said, "Lately what I've been trying to do is really only participate in the things I really, really enjoy and get the most out of them, which is field hockey and excelling in school so I just put the most effort I can into those things".
Olivia Hurd is only a junior and has already made such an impact academically and athletically. Nashoba is lucky to have such an outstanding student.