The Arts After High School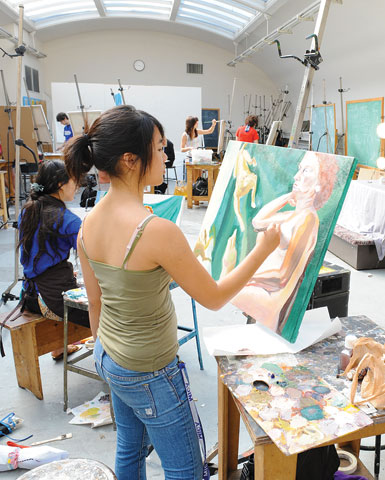 For many, when they pass the threshold of junior year a road block appears…art school or liberal arts school? Often, artists and musicians have the same stress as all other high school juniors, but the added question of whether they continue their creative career in full steam, or stay on a more "traditional" education path. Many students feel that if they choose to go to an art school, they'll be held under a tight stereotype that they'll "never get a good job" or "never make any money," or worse yet "they're going to art school because they can't do anything else."
I'm here to tell you that I know how you feel. When junior year came, I was faced with the same decision– go with most of my friends to liberal arts school, or cut my own path down to an art school? My parents, thankfully, are fully supportive of my artistic interests, and have never once told me not to pursue a career in the arts, leaving it up to me to choose my path. I toured about 13 schools in the span of my junior year, four of which were art schools. My first piece of advice is if you're considering a school for the arts (like MassArt, MICA, Boston Conservatory, Berklee, etc) you NEED to tour at least one. It was never clear to me just how different an art school is from a liberal art school, until I toured a couple of each.
I found a new dilemma after touring multiple schools– I loved the environment of an art school, but I also loved the extensive opportunities of a liberal arts school. I was totally torn. In my mind I kept thinking "if I go to an art school I'll get made fun of and probably never make enough money to support myself or my future family, but if I go to a liberal arts school I have no idea what I'd major in and I won't be happy." It took a lot for me to get over my fears of going to college, but it took even more to get over the hill of fears I had for my future. What if I go to art school and never make money? What if I go to liberal arts school and I'm never happy? What if I go to an arts school and there's no major I like enough to do? What if I go to liberal arts school and there's no major I like enough to do?
I took a few steps in order to silence my fears. First off, I talked to my teachers, specifically Art teachers here at Nashoba. As their student, they already knew me fairly personally and I was comfortable with them. I talked to them about where they went to college, when they knew what they wanted to do in the future, how they knew what they wanted to do in the future, some of the steps they took and most importantly, if they could do something different, what would they have done. The responses I got from both of them were incredibly helpful, but one of them replied, when asked what she'd do differently, "I would not have gone to [her college of art]. I never felt like they were as committed to academics as I was, or as I wanted them to be. All my [professors] and mentors were awesome, but I just didn't feel like I was getting an education outside of art, which wasn't really what I wanted, since I wanted to become an art teacher." This alarmed me a little, as I was considering ArtEd as one of my possible majors/career paths. However, she also contributed that her school offered the opportunity to take liberal arts classes at surrounding colleges, but she didn't have the time or desire to sign up and do them.
Second, I set up one-on-one interviews with the schools of art in two colleges– Syracuse University and the University of Massachusetts Amherst. Going in, it was fairly causal and definitely not as nerve-racking as I thought. Both were very casual, and I just wore my usual college tour clothing (like a sundress or jeans and a nice shirt…you don't have to wear a blazer to these!!), and all I did in both of them was sit down with one of the Admissions officers and ask them questions to gather more information about their art programs. After speaking with both schools, I felt confident that if I, or any student for that matter, were to go to a liberal arts school to study art, they would have wonderful opportunities and ample support to pursue their desired artistic career.
Lastly, I went to as many accepted students days as I possibly could and made a conscious effort to reach out to college admissions offices/personnel,  students, and faculty. This was probably the best thing I chose to do throughout my entire college search process. If there is one piece of advice I could pass on to students apply to colleges for any major/interest, it would be to meet the people!! The best tour I have been on out of a whopping 27 college tours across the nation was by far the accepted students day at Maryland Institute College of Art (MICA), simply because my personal admissions counselor (the guy who read my essay, looked at my grades, and reviewed my portfolio) made an effort to spend time with me and make a personal connection.
Personally, I ended up applying to five liberal arts schools and two art schools, so I would have a selection. I have yet to make my ultimate decision, but my top two are one liberal arts school and one art school, and knowing myself I'll wait until the last minute to decide. Moral of my story? Do NOT let the fear of stereotypes keep you from pursuing your own unique career!
For a list of possible artistic majors, I looked here, give it a peek, it really helped me see my options.
If you have any questions, feel free to hunt me down!