Holly Thompson Comes to Nashoba… Digitally!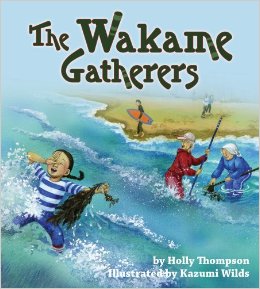 Holly Thompson, picture book author, Skyped with Ms. Foley's Honors English 10 class from Japan last Monday. Thompson gave many useful words of advice to the 10th graders, as they are writing their own picture books on acceptance. The acclaimed author taught them all about the challenges that an author must face in the pursuit of a picture book, as well as many strategies that would help the students. Not only did she give the young writers a vast knowledge on picture books, but she gave them advice on
even the formatting of the book and a look into the writing process altogether!
Holly Thompson has written The Wakame Gatherers, Falling into the Dragon's Mouth, and many, more. Thompson also teaches writing across the globe, which would explain why she did such a great job teaching the kids last Monday! She told the students that Wakame  is seaweed native to Japan, and The Wakame Gatherers is about a girl with Japanese and American grandmothers. The picture book highlights the fact that that Japan and America were at war when the grandmothers were the young girl's age.
Nashoba's own, Mrs. Landry, speaks on how she got the connections to help Ms. Foley's two classes as they begin their journey. Mrs. Landry came across Holly years ago when she was trying to promote her book, Orchards. Their professional relationship dates all of the way back to 2010 and it continues on as the author is also coming in April of 2017.  Mrs. Landry, as well as the Sophomores, got a lot out of the Skype call. Mrs. Landry commented that it was the story board format that was most interesting to her. Lastly, her favorite part of the call was learning about how the illustration process is separate from the writing process, as Holly explained.
Nashoba is very fortunate to have such great faculty, and the connections that come along with them. The kids learned many strategies that will help them in the process of picture book writing.