The NHL Introduces The Vegas Golden Knights
The Vegas Golden Knights are now officially the newest team in the NHL. Based in Las Vegas Valley, Nevada, the team will enter into the 2017–18 NHL season, and will be a member of the Pacific Division of the Western Conference. The team is owned by Black Knight Sports & Entertainment, a consortium led by Bill Foley, and will play its home games at the brand new T-Mobile Arena on the Las Vegas Strip in Paradise, Nevada. Though this all seems well and good, it was a long process to get this team approved.
As much as that day belonged to both Foley and the franchise, it also belonged to the people of Las Vegas. This team will be especially great for the children who'll be the first generation of local residents to grow up with a major league sports franchise of their own. This is one of the reasons so many people exploded with excitement. Though many think of Vegas as an adult get away heaven, there is a larger suburban community that surrounds the strip of casinos and hotels.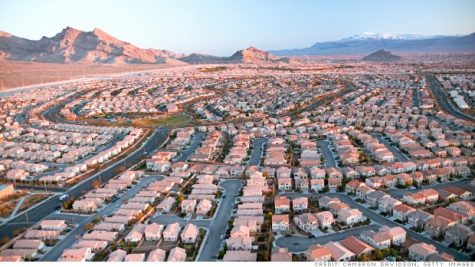 This is a photo of the Summerlin neighborhood in Vegas. There are several neighborhoods extremely similar to this one surrounding the city. With nearly 36 square miles of neighborhoods, parks, top-ranked schools, churches and a developing downtown that will house more than 125 shops, restaurants and entertainment venues, Summerlin is an up and coming suburban haven. This is where most of the families of the Las Vegas Valley live, with easy access to the entire city via the 215 Beltway.
The Golden Knights are also the first American NHL expansion team to start playing the only games in town, with no other major sports teams based in the same city. Between the Golden Knights, (maybe) the Raiders, and local phenom Bryce Harper, Las Vegas is stepping into the spotlight as a city on the rise in the wide world of sports. Hockey may just be the beginning of a larger phenomenon.
As far as recruiting the players goes, and the rules; it's all very complicated. Simply put, teams are able to protect certain players, and Vegas will be able to take other ones from the current NHL teams. After looking at most teams and current contracts, here are my predictions for some of the key pick ups:
Forwards: Mathieu Perreault, Dale Weise, Nail Yakupov, Michael Grabner, Beau Bennett, and Jakob Silfverberg.
Defense: Trevor van Riemsdyk, Luke Schenn, Joe Morrow, Colin Miller, and Brayden McNabb.
Goaltending: There are plenty of very good back up goalies in the league to choose from, but my guess is the Detroit Redwings don't protect Jimmy Howard, coming off an injury and also being 32 years old; it's hard for the Wings to gamble on his health. Lastly, the other two are toss ups, but my prediction is Calvin Pickard and Linus Ullmark.