Merriam Webster Word of the Year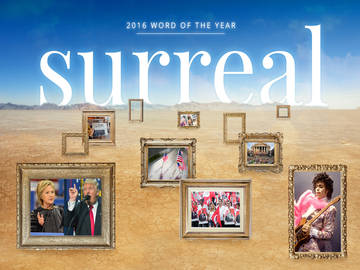 As 2016 comes to a close and everyone goes home for winter's break, Merriam Webster, the popular dictionary, is releasing their word of the year. Determined by the number of searches it earns, the word of the year is often something that can be seen as a summation of the last twelve months. 
After the presidential election, many contemplated what the word might be. Just last November, Merriam Webster tweeted out, "'Fascism' is still our #1 lookup…# of lookups = how we choose our Word of the Year…There's still time to look something else up." Interestingly, the tide did turn and they announced that 2016's word of the year is, surreal.
It seems fair to say that this word is fitting of the image 2016 will leave behind for many. Officially defined as, 'marked by the intense irrational reality of a dream', it seems right that the events many couldn't have dreamt of this year, actually came to pass. 
Other organizations also had their words of the year, like Oxford announcing 'post-truth' and Dictionary.com choosing 'xenophobia'. These words seem to reflect, not only the state of our world today, but how high emotions are running both in the US and around the world.
With the new year and a well deserved holiday break, let's hope that 2017 will bring about some better, more hopeful terms that are reminiscent of 2015's 'crying of joy' emoji. Here's to 2017.