The Matchmaker
Two weeks ago, the Nashoba Drama department put on their winter performance: the Matchmaker. Director Bill Grady chose the play. The Matchmaker, a play by Thornton Wilder, is about Horace Vandergelder, a store owner in Yonkers, New York, who hires a women named Dolly Gallagher to find him a wife. While looking for a wife, Horace is also trying to keep his niece, Ermengarde from marring the artist she loves, Ambrose Kemper. Dolly claims to be finding Horace a wife, while in reality she is scheming to get him to fall for her. Horace and Dolly head to New York City to go see Irene Molly, a woman Dolly iss setting him up with. Horace's clerks, Barnaby Tucker and Cornelius Hackl, leave his store and also head to the city in search of adventure. Barnaby and Cornelius end up meeting Irene and her assistant Millie O'Dowd at Irene's hat shop. They all end up running into each other in the city at  and love and confusion are in the air.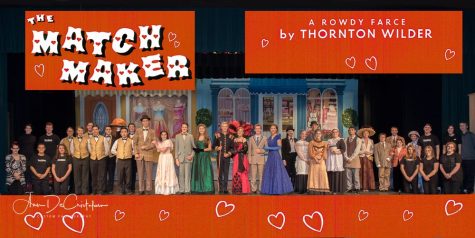 The play was fairly slow before intermission. The play kept me watching with Ermengarde's over dramatized crying to Barnaby Tucker's outburst of "cabooses" in times of distress. After intermission, the play really picked itself up. One of my favorite scenes in the play was when everyone was at Ms. Van Huyson's house and she tells them, after an identity mix up, that it doesn't matter who is who. It was hilarious seeing Barnaby dressed as a girl and mistook for Ermengarde. The second half of the performance was excellent, it was funny, and consisted of  a lot of enticing drama. 
The actors seemed to really enjoy the play they were putting on, and how they got to contribute to it. Performances are always  better when the people involved appreciate the art of acting and the play itself. There was a great choice with the casting in The Matchmaker from the leads down to the extras. The lead character, Horace, was played exceptionally well by senior Sam Mitchell. One of my personal favorite characters was Barnaby Tucker, played by freshman Michael Kozloski. He played the character with a perfect amount of innocence, and expressed great emotions. Senior Brooke Winsmann did a great job with Dolly, she had a great amount of sass and deception, and she was a great character to watch on stage. The performance as a whole was amazing; congratulations to the cast and crew for putting on a great show!