Turkey Game Recap
On Thanksgiving morning, our Nashoba Chieftains and the Clinton Gaels took to the turf in a game to remember. In addition to being the annual Thanksgiving rivalry, the game was dedicated to the Nashoba Football seniors.
The groggy Chieftains took 20 minutes to wake up, but with 10 minutes left in the first half, they exploded. Jake Fire opened the floodgates with the first touchdown, breaking free on a 33-yard rush with 9 minutes left in the second quarter. Junior Max Parrow sacked the Clinton quarterback on fourth-and-six, giving the Chieftains a good field position to generate the rush.
They attacked moments later with a quick 5-yard run by Mansour. Again before the half, junior Breese Hill ran a 54-yard touchdown on the Chieftain's first play, from the line of scrimmage, and quarterback Owen Fay added to the score with a quick rush from the 2-yard line. Alex Childs kicked the extra point, leading our boys into the second half with a 28 point advantage. 4 minutes left in the 4th quarter, senior running back Jack Seeto had a 2-yard touchdown rush to end the game 41-6. Nashoba racked up a total of 356 yards throughout the game, rushing 5 of 6 touchdowns.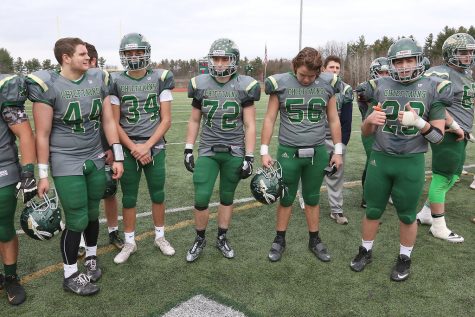 In addition to the senior dedication, three MVP honors were awarded by Ms. Rich and coaching staff. Junior linebacker Kyle Hume was named Nashoba's Defensive MVP, while senior running back Nate Mansour was named Nashoba's Offensive MVP. Senior running back Jake Fire was awarded the Game MVP honor, rushing 2 touchdowns and kicking an extra point for the team.
Coach Jamie Tucker was proud of the way his team took to the field on the chilly Thursday morning. "The Thanksgiving Day game is about the seniors, and I'm very proud of all of them," Tucker said. "This is my fourth year, so I came in with this group of seniors and it's kind of special to me. Just a special day for the seniors, and is something they'll always remember. Obviously, getting the win against a good Clinton team makes it even better," he added. "It was an emotional game and I thought our kids did a very job," Tucker said. "For example, I thought our run defense was very good. In the end, I thought all the kids played hard and played well."
Good luck next year to the rising seniors, who will hopefully keep up the Chieftain traditions of Nashoba Football.