The Trouble with the Thanksgiving Food Drive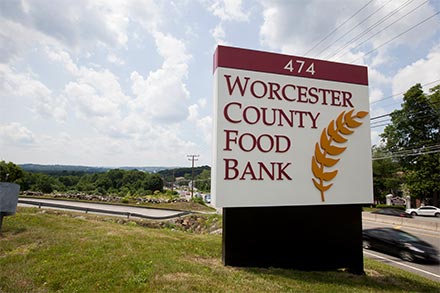 In the days leading up to Thanksgiving break, a relatively small percentage of our school participated in a food drive to collect non-perishable items for the Worcester County Food Bank. There were some people that brought in generous donations, but, in short, there was a major lack of attention from the over 1,000 students in our school. For those who regularly donate food or time to those in need especially during the holiday season, those donations are greatly appreciated, even if they haven't been through our school. For those who did not donate at all, we only collected 500 pounds. That's less than half a pound per person. If everyone was to bring in just one can, that number could double or triple.
We are living in a very privileged area surrounded by towns and small cities with people in need. Whether we realize it or not, our lack of donations makes me particularly frustrated because I am involved in my local 4-H club. We regularly collect food each year for needy families just within Lancaster itself. My group has around 40-50 students, parents and siblings involved, and we really try to make a difference. We run a food drive at the elementary and middle schools, where students donate enough food to fill care bags for each needy family.
This year in 4-H, we filled 20-25 bags with grains, vegetables and other non perishable items so those less fortunate can have a Thanksgiving as well. In all, my family donated 3 separate times: once for a food drive that my field hockey team ran, once for 4-H, and then another time where I dedicated almost 2 hours to pick squash with other members of my group. We collected 1035 pounds of squash in a field that one of the member's parents offered up for us to glean for the cause. Additionally, there were 25 turkeys donated. Although it's not expected that everyone donates that much, bringing in a few cans of unexpired food can go a long way.
Maybe students at Nashoba do not feel as though there are that many needy families and that there is less importance towards donating, but even the most mundane can of food can be someone's reprieve from going hungry. The Worcester County Food Bank distributes all over the area and any food that is donated, is readily consumed by those who need it.
Even at my workplace, one of my coworkers is in a tough financial situation, and he told me that he wasn't expecting to have a Thanksgiving this year. Through donations from a local church, he received a turkey, stuffing, potatoes, and vegetables so he could eat with his family. Donations enabled those who otherwise couldn't do it, to have a great Thanksgiving.
In the future, we need to step it up as a school. We can't be donating just a few boxes of pasta and a handful of cans when we know that we have the means to do so much more.