Breakfast Prices Soar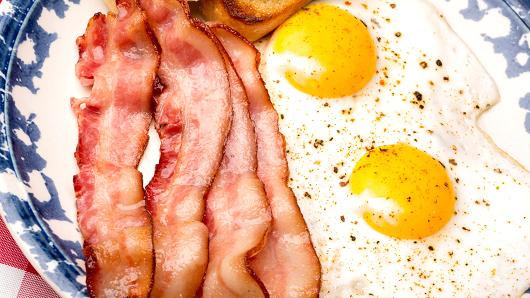 Drought and viruses affecting pigs, have caused breakfast prices to skyrocket. In fact, bacon has increased up to 52 percent. Why? In addition to the raise in prices for pig feed, a lethal disease is being passed around, killing somewhere from 80 to 100 percent of piglets. The virus killing so much of U.S.'s potential bacon is porcine epidemic diarrhea, not such an appetizing thought.
In addition to egg's best friend, some of the classic breakfast beverages have also gotten more expensive within the last year. Frightful news for night owls and morning zombies everywhere, coffee is included in that list. Brazil, a major coffee export, has been suffering from a drought. Just this year, prices on this caffeinated drink have risen 57 percent!
Cafe goers not to worry, the price at coffee shops like Starbucks are unlikely to fluctuate too much. "the cost of beans makes up only a fraction of the final price, compared to other costs like rent and staff wages" according to CNBC.
Another morning drink, orange juice, is up 12 percent. It recently hit its highest price in two years. A disease first discovered in 2005 is strongly affecting Florida's orange crop, as well as a drought.
Sources Contributors: CNBC, New York Times