Athlete Spotlight: Sarah Johnson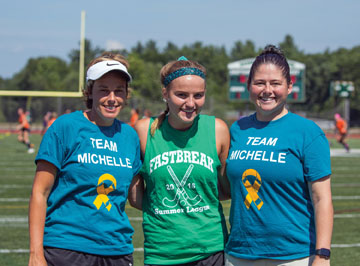 Some would say last year's Division 1 powerhouse, Nashoba Field Hockey, would be at a disadvantage after losing 13 seniors last fall. With only four current seniors and a limited number of underclassmen with prior varsity experience, every player had to step up to fill the spaces on the field. One of these players was senior captain Sarah Johnson, a midfielder who has been playing on the varsity team since her sophomore year. She has watched NFH captains like Tess Anderson, Olivia Hurd and Emma Caviness, and knows what it takes to lead a great team.
The Chieftains began the week of October 24th with an 11-2-3 record, and have not just held their own against formidable opponents such as Marlboro, Algonquin, and Wachusett, but proved they had more than just talent or luck. The team has had a history of underclassmen contributing greatly to the team's success. Last year's team was a relatively young, supportive group that rallied around one another from day one. This year, freshmen Erica Spallone, Kayla Ballas and Gigi Fay took to the field.
Johnson had an optimistic view at the beginning of the year, and her ambition has strengthened as her team has overcome considerable opposition. "New players are a big factor… Though the start of the year was hard, we ended up working things out." Johnson said. Like all high school sports, there is no team without the helpful leadership of its captains.
Johnson grew up playing ice hockey in Stow with fellow state champions from the Nashoba Boys Hockey team. She tried field hockey for the first time with the Strikers, a tri-town club team for students in middle school. She adapted exceptionally well and her skill showed quickly. Her familiarity with both hockey on ice and on grass gave her an edge in handling the ball. Though she still played ice hockey last year for the joint Nashoba/Algonquin girls hockey team, field hockey has become her main sport.
"Sarah is a great captain," said junior Christina Lengieza, "She is a great leader and she is really good to go along with it." Johnson has the experience to get the job done and definitely knows how to win and work hard. One formative influence in Sarah's life is Olivia Hurd. Hurd was a Mid-Wach A all star, and now plays D1 field hockey at the University of Vermont.
When talking about Hurd, Johnson said, "We were really close and she inspired me to be who I am today… She taught me how to lead a team and stay positive and she taught us hard work." This hard work is what has gotten the Nashoba Field Hockey team to where they are today, boasting a League Champions title that they share with top-ranked Marlboro. With some of the team having playoff experience, they are looking really strong going into playoffs. They are determined to take each game day by day and fight as hard as they can for each win.
"We know that Districts are on our minds, but we have to take every opponent on game by game," said Johnson. They have fought hard for their successes and hope to continue the legacy of the past few years. The team knows that hard work has gotten them two district championships and state final appearances. That is what it's going to take for them to succeed this postseason.
"We know what we need to work on, and we are going to find a way to win."