Katie Everton: Makeup Extraordinaire
Katie Everton, a 17-year-old self-taught makeup artist, is not only inspiring but incredibly inventive. Katie has a talent in creating artwork by using her face as a canvas. On Instagram, Facebook, and Flipagram her account, doseofdynamic, displays Katie's fantastic artistic skills. She constructs great endeavors such as Jack Skellington, a coral reef, and other portraits. She is a true innovator by using a different palette to create modern pieces of art.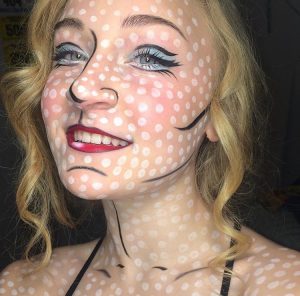 Her obsession with makeup only started recently while completing a project for Mr. Hunter's history class. While researching, she found the makeup style, popart, and it inspired her to try it on herself. Since then, Katie took her talents to social media and has been featured on Bustle, Flipagram, and on Skype calls with Mashable. She has even reached number one on the top weekly Flipsters charts on Flipagram. Katie is now focusing on the #Nocostumerequiredmakeup challenge on Flipagram, where she has made several Halloween looks for the month of October. 
When Katie does not have her hands on a makeup brush she can be found working at Shaws twenty hours a week as a service rep. She also shadows an Auburn Physical Therapist and works for Donny here at Nashoba. Furthermore, Katie can be found sprinting on the Nashoba Track Team during the spring or helping with makeup backstage the Nashoba Drama performances.
Katie says that while she loves doing make-up, her  talents are more of a hobby than a career. "I do it because I like it" Katie says in a recent interview. She also says that a dream of her's would be working on the creative team for Circus de Soleil. The performance troupe is known for their amazing makeup and outlandish designs, ideas that Katie uses on a daily basis. However, her present goal is to go to college and is looking to major in physical therapy. "Just because I have this passion for costume makeup doesn't mean I am going to drop everything and do it. It is a hobby".
Katie's face lights up when she talks about her rising fame, as opportunities are continuing to come up for the makeup expert. Fellow artist Gabbi Small has been credited as the inspiration for her steady success, as well as celebrities such as make-up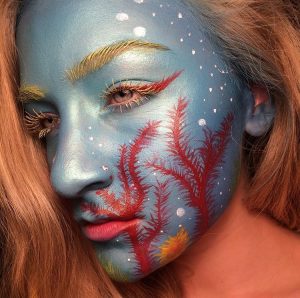 persona Kimberly Margarita.  Katie also takes her ideas from important crises, creating deep imagery in her artwork. One example is her transformation into a coral reef scene to display the present crisis concerning the endangered environments(shown right). Additionally, she uses abstract artistry and likes to take darker approaches. She has even recently used well-known villains such as The Joker for inspiration in one of her more recent creations.
Katie is a proud advocate for many groups, such as the LGBTQ+ community and feminist movement. In a recent post, Katie created multicolored eyelashes in support of coming out day on October 11th.  She has now been featured on Bustle, Mashable, Flipagram, and many other media outlets, and her success is only going to continue to grow. This rise to social media stardom is only the beginning for Katie, an artist of her stature will surely continue to amaze her fans and community alike.