Blue for Michelle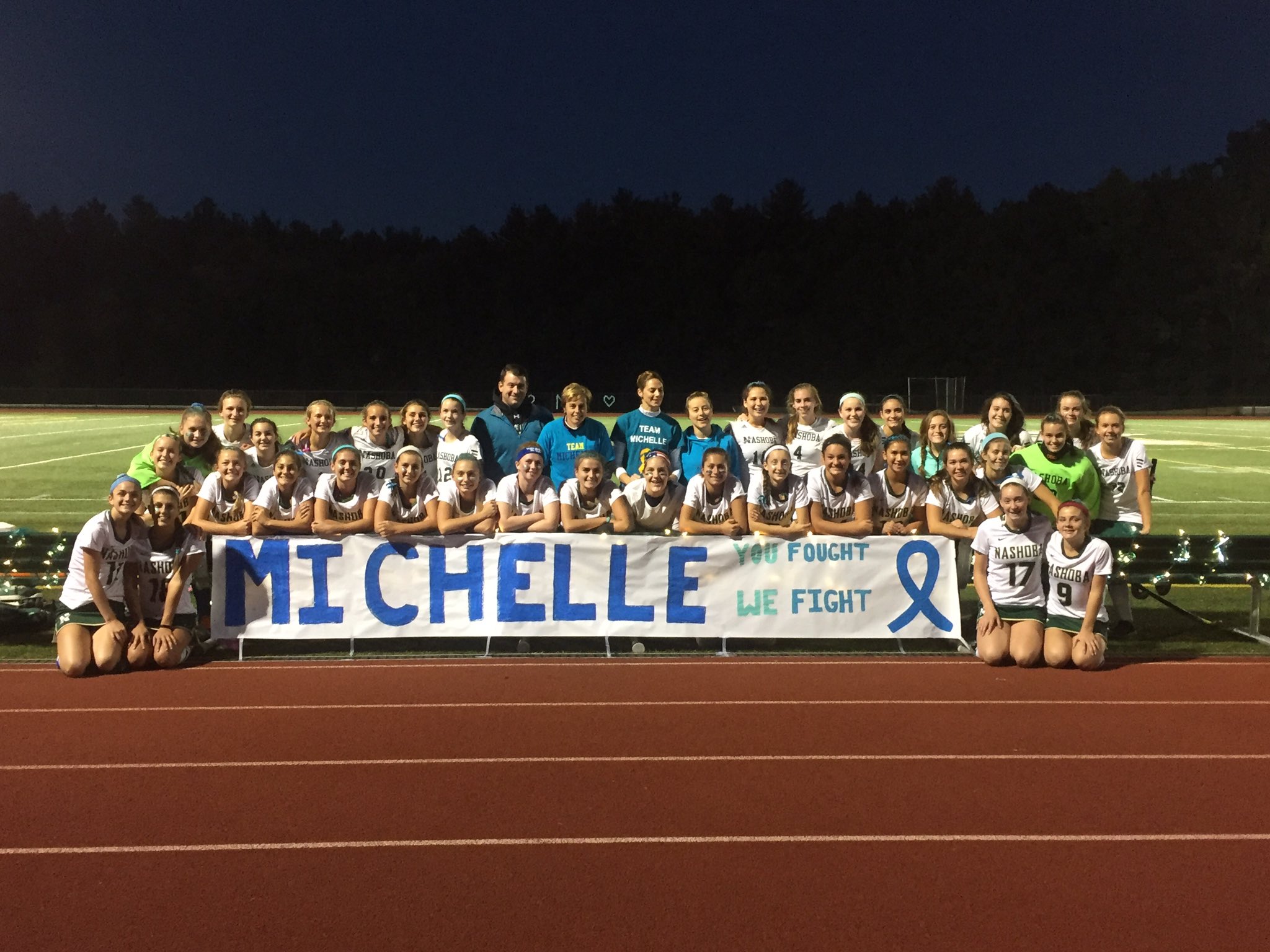 Michelle Field Hockey Night
On Wednesday, October 12th, Nashoba Field Hockey dressed head-to-toe in blue in honor of Michelle Farnsworth. Michelle, a former student at Nashoba, passed away to Rhabdomyosarcoma on January 13th, 2015. Michelle's passing left the community in shock and sadness, but they were not let down. After the passing of heroic Michelle, the community came together to celebrate her life in the most positive way. Blue hearts flooded Twitter, as the blue heart symbolized her cancer and strength during her battle. Posts were made on Instagram, Facebook, and Twitter as people told stories of her outgoing personality and radiant smile. Michelle was one of those people that always put a smile on your face. Her happiness and positivity shined and imprinted on other people. Michelle was also an incredible artist and athlete. Her athletic ability stood out in swimming and field hockey. Before being diagnosed with Rhabdomyosarcoma, Michelle swam and played Junior Varsity Field Hockey for Nashoba.
When Michelle could no longer play field hockey during her sophomore year, she was still involved in the program. Each game, the captains and team would send a text or video showing their love and support for her. They used Michelle's strength to win regular league games, and eventually playoffs. Much of their success were credited to Michelle, and it seemed like the team's driving desire to win was for her. In 2014, the team made it all the way to states, losing a tough game to Acton Boxboro. The team truly believed their successful season was due to their ambition to win for Michelle because she could not play herself. At the state's game, all the players were presented with medals, including Michelle. Although she was too weak to play, she helped the team immensely in a way no one else could.
Although Michelle is no longer here to light up the room and show off her athletic ability, Nashoba still holds games in honor of her. On Wednesday October 12th, Nashoba Field Hockey hosted their Michelle Night against Leominster. All the money raised at the game went to Michelle's Scholarship. Close friends of Michelle sold t-shirts and car magnets sporting some of Michelle's art. Fans were encouraged to come support the team in blue for a great cause. The game was a success as Nashoba shut out Leominster in a 4-0 win as fans were dressed head-to-toe in blue to support the team and remember the amazing person that Michelle was.