Miss Peregrine's Home for Peculiar Children
Movie review by the Chieftain Press Film Critic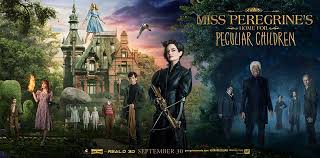 If one word could sum up Miss Peregrine's Home for Peculiar Children, it would be anticlimactic. As a huge fan of Tim Burton's classics, I was really excited to see this feature film. Although the genius behind Beetlejuice and Edward Scissorhands holds a special place in my heart, I was thoroughly unimpressed by his latest work. The story is confusing, complicated, and lacks the bravado Burton fans have come to expect. In writing a summary for this movie, I can't help but find the task arduous because the movie is so confusing and difficult to follow. Tim Burton's unique imagination is sadly lost in a work that really missed the mark.
Many critics agree that the first half of the movie had the potential to be quite captivating. Before the plot actually begins there are a multitude of interesting introductory characters and storylines. The "peculiar children" were the only truly redeemable pieces of the story; an especially stunning performance was delivered by Eva Green as Miss Peregrine and Ella Purnell as Emma Bloom. It is when the actual plot kicks in that the movie falls flat. Samuel L. Jackson's character was not at all terrifying or even remotely interesting in his portrayal as the villain named Baron.
The storyline takes a bizarre and unexpected turn when he and many others are shown eating eyeballs to keep their human body types. Overall, the second half of the story trails off entirely and doesn't make sense. Burton expects us to understand what is going on in this made up world, despite only brief references to important subplots. Finally, the ending does not make sense as the main character, Jake (played by Asa Butterfeild), jumps from loop to loop to find Eva Green's character to have some type of romantic moment with Emma Bloom. Even as the meaning of his action becomes clear, there are so many loose ends that the plot cannot possibly make sense to someone who hasn't sat through this two hour feature. The plot was truly a disappointment.
Overall, I am thoroughly unimpressed with Tim Burton's portrayal of Miss Peregrine's Home for Peculiar Children. After reading through several movie reviews from other critics and average movie-watchers, most were equally disappointed. Some who had previously read the book were even more upset than I, saying that Burton significantly strayed from the original plot and took too many creative liberties with the second half of the movie. In light of these concerns, I would not advise anyone to waste their money on this film.