Nashoba Gets a New Superintendent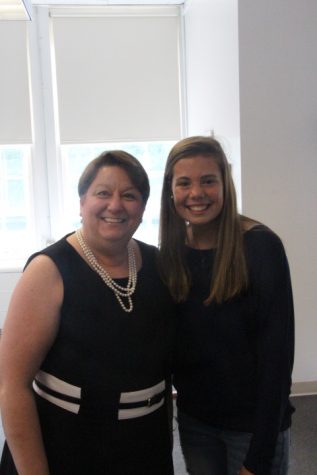 After a long process, Nashoba Regional School District hired Brooke Clenchy to be our next superintendent. With curiosity and excitement, a number of student journalists interviewed her in order to get a closer look at her goals for this year and to learn about her career. The superintendent is the highest administrative position in the Nashoba Regional School District. During the 2015-16 school year, Nashoba's former-superintendent Michael Wood left the district due to disagreements with the School Committee. While working with an interim-superintendent, the Committee went on the hunt, narrowing down their search to Brooke Clenchy, who has just started her first year at Nashoba.
Mrs. Clenchy was chosen, among many reasons, for her strong leadership skills and warm, friendly, disposition. The features which most stand out about Mrs. Clenchy are her smile and her excited optimism for the school year.  The Chieftain Press was joyfully welcomed into her office and she was eager to talk about her new position and her goals for the year.  There were many reasons why she chose to accept the position at Nashoba. "I really love the location, it's like the epicenter of the world. Most importantly the school district has such a solid reputation." She was very excited about the reputation and opportunities that the school and it's location presented.
Mrs. Clenchy also spoke about her love of education and reflected on the teaching that she did in the past as well as how much she loved working with kids. Mrs. Clenchy expressed her feeling about what it is like to mold the next generation and to watch them transform into incredible people. Her first job as a principal challenged her in a way that she never knew possible and opened her eyes to the importance of education and good teaching.
She showed off, with great glee and zeal, the newest renovations that have been made in the Emerson school. The gymnasium and extended day areas have been expanded, making use of old, forgotten rooms that have been revitalized with colorful chairs, tables, toys, and learning materials.
Mrs. Clenchy brought a unique perspective to Nashoba as she spent two years with the department of elementary and secondary education, which gave her a different view of the education system. Her wide variety of educational jobs  made her an excellent fit for the next leader of this district. Mrs. Clenchy is fueled by her desire to conquer all challenges she is faced with no matter the level of difficulty. Nashoba welcomed Mrs.Clenchy with an enthusiastic spirit. Staff, students, and parents, in her view, work together in a cooperative way, which makes her job easier.
Mrs. Clenchy also commented on her observation that the teachers and principals love what they do and run their buildings incredibly well, allowing her to focus on other issues and goals that she sees for Nashoba. She commented that the biggest challenge that she faces is taking an already "high performing school" and bringing it to that next level. This is a challenge which is really good to have. In addition, Mrs.Clenchy observed that  our schools are incredibly respectful. We are excited to see what Mrs.Clenchy will do within the district in the coming years.