Who Is Paul Theriault?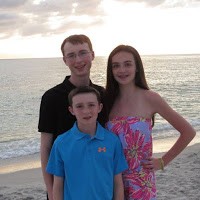 You've probably seen him in the hallway, carrying a large backpack that takes up half of the space available. But behind the backpack we all see, Paul Theriault, a sophomore at Nashoba Regional High School, has a very interesting life.
Born on August 2nd, 1999, Paul Theriault lives with his mother, father, and two siblings: John and Elizabeth. He has lived in Stow his entire life and Stow has been an important location that has further developed his interests and provided him with the opportunity to express his talents to the community.
When Paul was six years old, his grandfather started what Paul calls, an "Alpaca Farm" on their Stow property. Paul describes that the Alpaca Farm he was raised on had many alpacas. As he grew up, he claims that they had about 25 at one time. "We bred and showed them. I would feed and care for them on a daily basis," he says.
The Theriault family raised their alpacas near their home in Stow, along with the help of his grandfather and other family members. Not only did they breed and show the alpacas at various locations, they also owned a store which sold their alpaca merchandise.
Alpacas

photo courtesy of: The Theriault Family
"We used to have a store were we sold alpaca merchandise. I used to work in the store and help sell things. We used to also go to fairs and sold the merchandise there," Paul says.
Typical alpaca merchandise mainly includes yarn, hats, scarves, socks and other materials derived from the fur of the alpaca.
In school, Paul is a very well-rounded, versatile student. Paul is a typical sophomore, taking all required classes at the sophomore level. But when asked what his favorite subject is, he says: "Technology and business,". Paul goes on to further describe why he enjoys the technology and business courses offered at Nashoba the most.
"It is fun and entertaining, [especially] making up your own things!" Paul says. Having the technology and business courses be his favorite subject at Nashoba, makes sense with what he likes to do in his free-time.
Paul is a student in the video class offered by Nashoba. With his skills in video production, he is an active member and producer of the Nashoba News broadcast. Responsibilities of being the producer for Nashoba news include: "preparing and operating the mixer," Paul describes.
He further explains his weekly jobs/responsibilities for the news broadcast: "I create video and graphics for the weekly announcement,". To view Paul as an anchor on Nashoba news click here or watch it below. These obligations that Paul must meet every week make him a reliable and responsible individual, as he is a main component of Nashoba news and is needed to ensure its success.
Many describe Paul as a responsible and hard-working individual, including many students in the sophomore class.
"Paul is a really caring friend. He is always looking to help people and look out for them. He's smart, driven, and he cares about his school work. He is someone you can trust with anything," Sarah Gillooly, a Nashoba sophomore student says about Paul.
Rachel Estey, another sophomore student agrees: "Paul is really dedicated to his extra curricular activities and it's super inspiring!"
By advancing his skills and contributing his time to the Nashoba news video production, he also finds himself contributing to the local Stow TV organization.
"I help out with Stow TV, where I film and edit videos. I have helped with the Spring Fest, band and chorus concerts and many other events," Paul says.
Due to the fact that Paul has been so heavily involved in school video news and outside of school video production, significant opportunities have been presented to Paul. Most recently, he has been awarded a grant for $1,500 to implement a video broadcast program into the Luther Burbank Middle School in Lancaster.
This achievement for Paul was well-deserved and very important to him.
"I will be in charge of setting up and running workshops to teach students about video broadcasting," Paul says. This description of the new opportunities he will be presented with due to the grant, seems like a perfect fit for Paul, as he will be able to share his talent of video production to younger students who may have a similar passion.
For the upcoming summer, Paul is not slowing down. He has gained an "internship with the World Farms Organization/Flats Mentor Farm in Lancaster," he describes.
"FMF assists and supports small farmers of diverse ethnic backgrounds with the land, farming infrastructure and marketing assistance needed to promote and sustain successful farming enterprises," (www.worldfarmers.org/flats-mentor-farm). Paul is looking forward to working as an intern with this organization. To learn more about the organization, click here.
But besides the internship, Paul claims that he is "looking forward to relaxing in [his] spare time" this summer.
But again, Paul's plans for the future don't stop there. At the end of the summer and the beginning of fall, he will be returning to his regular seasonal job at Shelburne Farm in Stow where he works as a cashier. Paul says that he "really enjoy[s] working there".
Paul Theriault is an extremely hard-working individual, who at 16 years old, has already had tremendous accomplishments. As his future begins to develop, it is no doubt that Paul will be successful in his future endeavors.