Raptors extinguish the Heat; Punch ticket to first Conference Finals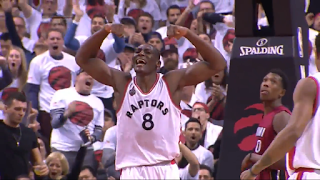 This past Sunday, the #2 seeded Toronto Raptors blew out the #3 seeded Miami Heat and earned their spot to play in the franchise's first Eastern Conference finals ever.
After another long and tiring seven game series, the city of Toronto can finally breath a sigh of relief as their Raptors pummeled the Heat in a impressive 116-89 home win at the Air Canada Centre. All cylinders were firing as one of the leagues most dynamic backcourts, in PG Kyle Lowry and SG Demar DeRozan, exploded to score a combined 63 points and 15 rebounds. The emerging backup, Bismack Biyombo, who is now starting center due to a Jonas Valanchiunas foot injury, also added an impressive 17 points and 16 boards.
The Raptors win could not have come at a better time as the city of Toronto has, up until recently, faced a playoff drought for quite a while. In fact, Toronto's 56 wins in the regular season coupled with their deep playoff run makes this season the franchise's best to date. The Raptors have not been this successful and productive since Vince Carter was on the team in the early 2000's. Their last playoff series win was just about 15 years ago and now, they already have two under their belt.
When asked after the game about Bismack Biyombo's impact as of late with Valanciunas out indefinitely, Toronto's PG Kyle Lowry responded, "He has been like that all season. When JV [Jonas Valanciunas] went down with a broken hand and Biz [Bismack Biyombo] did an unbelievable job and even now he stayed ready, stayed committed to the process".
Lowry was then asked about what it took to get the franchise to its first Eastern Conference finals to which he responded, "Hard work, dedication, sticking with the process, and just having fun with it. It's not going to last forever so have with it, smile, enjoy it, and enjoy the fans and the game of basketball".
"I thought the effort, the intensity, the focus, was who we were on both ends of the court," said Head Coach of the Toronto Raptors Dwane Casey in a post-game press conference when asked about his team's Game 7 performance. "I thought we started out a little shaky defensively but I thought as the game went on we got locked in, tied in, and did a much better job of guarding the basketball and keeping the ball in front of us, which was the key".
It has been a somewhat tiresome couple weeks of playoff basketball for the Toronto Raptors as they have just won two consecutive seven-game series against some quality competition. However, they lack consistency in their production in the backcourt especially with All-Star PG Kyle Lowry. He seems to alternate between the All-Star Kyle Lowry, who puts up around 30-36 pts. per game, and the struggling Kyle Lowry who can not even manage to shoot 30% from the field. The Raptors have been fortunate enough to get by with Lowry's struggles, but if they have any shot at taking down the Cavaliers and their current, somewhat scary three-point barrage, they will have to find ways to keep Lowry hot and productive throughout their next series.
Although Toronto is excited about their best playoff run in Franchise history, they now must face the Cleveland Cavaliers and the feared big three with LeBron James, Kyrie Irving, and Kevin Love. The match will hopefully be a heated #1 seed v. #2 seed battle for the East, which will land the victor a spot in the NBA Finals and a potential chance at the Larry O'Brien Championship Trophy.
Sources:
http://espn.go.com/blog/nba/post/_/id/19933/raptors-roll-in-game-7-as-lowry-continues-scoring-spree
(Lowry Interview also in link above)
http://sports.yahoo.com/news/raptors-beat-heat-game-7-earn-showdown-cavaliers-225101615–nba.html
http://espn.go.com/nba/boxscore?gameId=400875896
*All photos from highlight videos below
https://www.youtube.com/watch?v=lW4biSw7n2A
https://www.youtube.com/watch?v=94422ei7U7M
https://www.youtube.com/watch?v=iJ34VFtmTyw