Nashoba Students Pledge To End The R-Word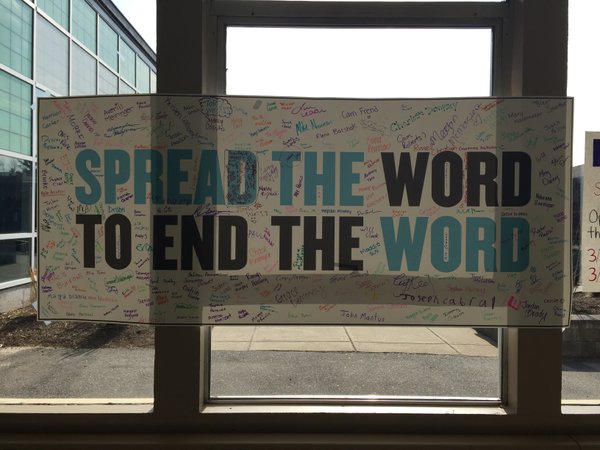 Nashoba's Best Buddies came together on Wednesday, March 2nd for the annual Spread The Word To End The Word day in an effort to raise awareness about the harmful repercussions of using the "r-word".
Spread the Word to End the Word is an organization that promotes acceptance and awareness of the pain that using the r-word can bring. Both the Best Buddies programs and the Special Olympics work with this organization to help move the r-word out of the media and society. They host their Spread The Word To End The Word day the first Wednesday of March each year, but encourage people to "spread the word" all year round.
Mrs Mutrie, the Best Buddies adviser at Nashoba, says that,"Culturally, we've just built that word into our vocabulary and over the years its just used carelessly" and that, "many times its not malicious, people just throw it our there".
She, along with the rest of the Best Buddies community, hopes that through incorporating the students at Nashoba in this movement, they can remove this word from people's vocabulary. To do this, a banner was brought to lunch and people were welcome to sign it to show their support, whether they were a member of Best Buddies or not.
Josh Hogan, one of the many students who added their name to the banner, says, "I really do think it's awesome that people care".It's not surprising that with the success of the Best Buddies program, the majority of students at Nashoba support this movement and have pledged to not use the r-word.
Mrs Mutrie also comments on the positive actions of the people at Nashoba when it comes to ending the word:
"Being the Best Buddies adviser, I've seen such an effort to bring that awareness and really spread the best buddies mission, which is acceptance for everyone" and that the feeling of love and acceptance is "truly ever present at Nashoba".
Acceptance has also been encouraged through the number of programs and classes that give opportunities to work with disabled students. One of these being the unified choir class, where students like Anna Traverse and Cassie practice and preform pop songs.
Anna says that, "It is very rewarding for me to know that I am doing something to help those kids have fun and do something they truly enjoy".
If you would like to show your support for Spread The Word To End The Word, you can visit their website and pledge to end the word.