Chieftains' Run Cut Short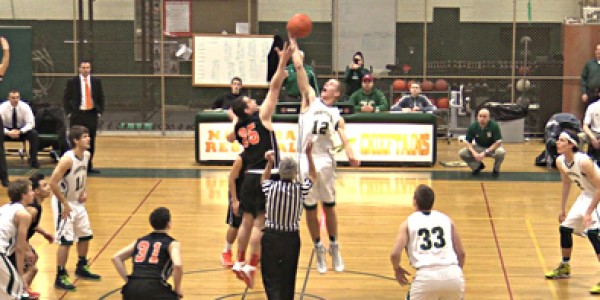 In one of the most successful seasons in recent memory, the boy's basketball team saw their promising playoff aspirations cut short with a loss to Westborough. The Chieftains haven't seen a boys basketball playoff win in over five graduating classes.
Relentless hustle and hot shooting helped the boys dominate the first quarter of the game. But the Rangers wouldn't lie down. After racing out to a double digit lead, Nashoba saw their lead evaporate before their eyes as they headed into halftime down 36-33. The second half seemed to be all Westborough as they bolted to a seven point lead in the final quarter. Behind lucky shots from Dan Orlando and highly questionable officiating, it seemed as if Lady Luck had completely turned her back on the Chieftains.
But with just minutes to play, the Chieftains came roaring back. As the motto "live by the three, die by the three" goes, the longball nearly killed Nashoba but also nearly revived them. Behind clutch shooting from senior captain Justin Pelletier and senior Kevin Connelly, the Chieftains seemed to defy all odds to tie the game at 57 with under a minute to go.
Unfortunately, the Rangers' following layup proved to be the game winner and the dagger to the heart for the Nashoba season. While Pelletier's go-ahead attempt bounced out with five seconds to go, the season was nothing but net. Behind this group of seniors, Nashoba boys basketball has been put back on the map. As Matt Sabourin harked upon in our postgame interview, the chemistry and camaraderie between teammates extended far beyond the hardwood. Chieftains loved playing basketball again and the records have started to show. Two straight playoff appearances looks to be the start to a great future for Nashoba under head coach Danny Ortiz.
The Chieftain fans also came out in full force for the contest, washing out the entire right side of the bleachers with their Whiteout. Donning the colors of their team's jerseys, Nashoba fans screamed themselves hoarse for all 40 minutes of the game. In years past, a crowd of that magnitude would have been nothing but a dream. But behind exciting wins and the encouragement of our top-notch Athletic Director, the stands were jam packed.
So while history couldn't be made on that chilly Wednesday night, the 2013-2014 boys basketball team began a legacy. For all the future successful seasons that the Chieftains have in order, this is the year that they can point back to. The year the change began. The Chieftain change to success.