Nashoba Presents: The Addams Family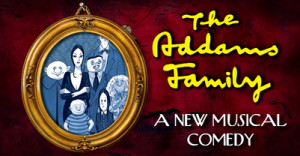 They're creepy and they're kooky, and they're coming to Nashoba this spring!
Nashoba Regional High School will be performing the National Tour version of The Addams Family, based on the beloved cartoon, television show, and movie franchise. Students have been working feverishly to prepare, and many parents and students are volunteering their time to work on props, set, costumes, and more to help make the show great.
The Addams Family was first created by Charles Addams, a cartoonist in the early twentieth century, and sold to the New Yorker in 1932. Addams' cartoons depict a seemingly domestic family that, on second glance, is more than a bit strange. In time, Addams' family was developed and given distinct personalities for the 60's television show of the same name and the 90's movie franchise, The Addams Family and Addams Family Values. Gomez Addams and Pugsley Addams are described as "enthusiastic," Morticia as "even in disposition, muted, witty, sometimes deadly," Grandma as "foolishly good-natured," and Wednesday as "her mother's daughter." The Addams Family, with its morbid humor, has continued to have a place in pop culture and the entertainment industry.
The musical, written by Marshall Brickman & Rick Elice, debuted in 2010 with an eerie-sounding score by Andrew Lippa. In this morbidly comedic musical, Wednesday falls in love with a young man named Lucas Beineke. Lucas and his family are relatively normal people and Wednesday is concerned that her odd family may not approve or will scare them off. The Beinekes go to the Addams' house for a family dinner and, naturally, chaos ensues.
In the Nashoba production of The Addams Family, the "family" will be played by Sam Kieth as Gomez, Marianna Sardella as Morticia, Hayley Giovinazzo as Wednesday, Austin Gauthier as Uncle Fester, Kevin Cote as Pugsley, Carson Bond as Lurch, and Alexis Ventura as Grandma. The Beinekes will be played by Danny Nagle as Lucas, Brooke Winsmann as Alice, and Sean Bannon as Mal.
Nashoba is making this show their own by creating a unique character, including a ballerina, a caveman, and a flapper, for each of the forty-two members of the ensemble. Another interesting aspect of Nashoba's version of the show is the incorporation of puppetry. The puppets will be run by underclassmen puppeteers under the direction of senior Lexi Traverse.
Many Nashoba students are looking forward to watching the performance. "I'm excited to see my friends in action," said senior Kristen Nash. "I don't know much about the show, but I've heard my friends are working hard."
Nashoba's production of The Addams Family opens on Friday, March 18, 2016 and will run until Sunday, March 20, 2016. Performances start at 7:30 pm Friday and Saturday and at 2 pm on Sunday. Make sure you come out to support Nashoba Drama; it's going to be a great show!