Carson Bond Profile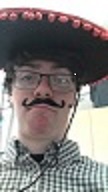 The name "Carson Bond" may just sound like a name one might make up if caught doing something really bad. However, this name is connected with someone even more complex.
Carson was comfortable growing up in nice little town located somewhere in Canada's vast landscape. He was always happy with his Canadian Smarties, his pop, and probably a lot of maple syrup. However, when he was in 4th grade, his father had to move to America for work. They settled in a small town in Massachusetts: Bolton. They had no idea how great this decision would be for Carson and for his future.
In Canada, there was never a kindergarten class for Carson to take. So, even though he was in 4th grade in Canada, he was actually almost a year younger then the fourth graders in the U.S. This left a big question for his parents-should he be with his age group or his skill group? He began 4th grade as soon as he got to Massachusetts and flourished. He took this new place as an opportunity to make his mark.
Eight years later, some might be surprised to see how much Carson has been able to accomplish during his time at Nashoba Regional High School.  He has been able to reach every corner of the school and find a way to participate in so many different activities. However, when he was asked if he wanted an article about himself, he stated:
"Don't do it on me; I'm a lame-o."
He can say he is just some kid who sits in his room all the time playing video games or photo shopping his friends faces on dinosaurs. It's pretty easy to see just how wrong Carson really is.
During his four years, Carson has always been found with the Robotics team as they work on that year's robot. He started getting batteries for the seniors while he was a freshman, and now he designs intricate parts the robot. He has gone to numerous competitions with this group, and only time will tell where he can take this robot in the upcoming year.
In these past four years, Carson has also been a huge part of the school's Mixed Chamber Choir. He began as a powerful bass that has fine-tuned his voice to become one of the strongest baritones in the school. Though he may have been just a piece of the bass section in earlier years, this year he has been the man leading the entire section during rehearsals and performances alike.
During his Junior year, he co-founded Nashoba's first a capella club with his friend John Atkinson. They established this group to work on the independence of their voices and by doing so they created a group that preforms amazing songs on stage during chorus concerts. He now is the man in charge of their and of the group itself. Lisa Fossa noted that their latest performance of "Royals" during the winter concert showed "how well organized the group really was."
Carson Bond's track career began in the middle of his time at Nashoba, but it soon found a way to consume his life in the best way possible. His love for running has encouraged him to push himself farther than he ever thought he could go.  He has become increasingly good at doing the 100 and 200 meter. His times for the 100m go as low as 12.0s while his 200m has gotten down to a 24.2 second run. During Relay for Life last year he ran an astounding 26.2 miles, the distance of a marathon.
With his part as Lurch in the upcoming performance of The Addams Family Musical, he can say he has been in every drama production during his time here at Nashoba. His ability to play such a good butler has landed him named roles time and time again. He has also been the male lead in every class play done by his class. Additionally, he is currently co-treasurer of the Drama Club and helps facilitate their meetings.
Most importantly, he has had such an impact on so many students in the building. He has been an amazing role model and resource for any underclassman in need. He has also shown so many students how much you can accomplish if you set your mind to it.
"He cares a lot and is super sweet and yet so modest," says Jessie Harmon.
As you can see, without that seemingly small decision that his father made many years ago, Nashoba would be a much duller place with Carson Bond.