All About Midterms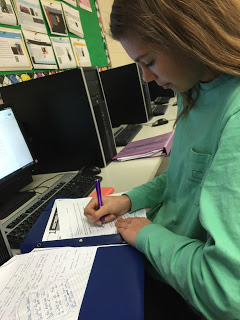 After a much awaited December break, students have to get right back into the swing of school. Midterms are coming up in mid January for Nashoba Regional High School Students of all ages.   Midterms are usually large tests or projects halfway through the year to test students knowledge of everything they've learned so far throughout the year. Each subject has a different way of weighting their midterms.
Alyssa Curran, a sophomore at Nashoba Regional High School, says "I am not excited about midterms. Teachers are cramming everything in last minute and are still teaching us new lessons along with having to study for midterms and regular homework. Also, lots of coaches don't understand that we have midterms and they aren't as lenient  as they should be with letting the athletes stay after with teachers. I am most nervous for my honors biology midterm this year but last year I was most nervous for my Spanish midterm."
Many students share the stress and workload of Alyssa due to the upcoming midterms.
Rachel Werner, a Junior at Nashoba Regional High School, gives her best advice on how to study for the midterms  "Well, I always plan ahead and study in the order I have the classes, I make note cards ahead of time, and I study 15-20 minutes on each subject each night.I mainly focus on the test I have the next day. This is very time consuming and stressful."
Steve Kendall, teacher of accelerated English classes at Nashoba says, "In the past I have given project based midterms, but this year we are being encouraged to give tests. So, this year I am giving a test on essential vocab, literary terms, and a short writing prompt where the students will take the role of a character in one of the works have read"
The midterms will go in order of classes. Meaning that Tuesday, the 19th students will have their A and B period midterm exams. There is also a later start so that students can catch up on sleep and can eat a good breakfast before these exams. We have no school the Friday before midterms and no school the 18th, due to Martin Luther King Day. Students should use that to their advantage and utilize that long weekend to study for these important exams.
Charlotte Hatcher, a sophomore at Nashoba Regional High, school talks about her biology midterm, "I think it is going to be pretty difficult because of the extensive vocabulary and large number of topics covered it is all multiple choice which makes me feel better, but at the same time that makes me feel scared about how many topics this could hold. I am in accelerated biology with Mrs. Dumais. Last year I was most nervous for my English midterm because of how many topic we covered in depth."
Make sure to eat a proper breakfast to help get you through the midterms, always take your time and double check you work, and most importantly get a good night's sleep. You can't concentrate on you test if you're falling asleep.