The Underdogs Make History
            Babe Ruth once said," The way a team plays as a whole determines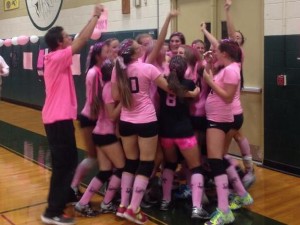 its success. You may have the greatest bunch of individual stars in the world, but if they don't play together, the club won't be worth a dime." This quote is directed towards Nashoba Girls Volleyball.
      Babe Ruth spoke wordsof wisdom which referred, if you strive as a team the success will come a lot easier and sweeter. The 2013 Nashoba Girl's Volleyball team exemplifies this quote.  NGV proved to everyone that they could make it to playoffs. The girls worked together, hustled, and encouraged each other as well as challenged. But most importantly they as a team had the mindset to not give up. No matter what the score was they knew if they gave it all they had, there would be a chance to pull out of the game with a win. That's the mindset of the underdogs also known as Nashoba Girls Volleyball.
       From the very beginning Nashoba Girls Volleyball had a goal to strive towards making  playoffs. This year they captured enough wins to get them to playoffs. Captain Victoria Wang mentioned," We've always had the ability to make it but we never executed enough to pull through and take the game. But I've been hoping to make playoffs for a while." This year the girls have won ten games which is the most wins in Nashoba Volleyball history.
    Captain, Rita Peirce had said," There was no drama like other sport teams. Especially this year we all focused and put all issues aside to focus on volleyball."
   Coach, Johnna Doyle added," I believed in this team. Last year we were close and the returning players had lots of experience so that was a plus."
      Having returning players is definitely a strong point in any sport and helped NGV out a lot with strong hitters, setters, and back row players. The team officially made playoffs on their Pink Night against Clinton. The night was complete, the girls ran and crowed in a circle chanting and cheering with excitement. Captain, Rita Peirce stated," It felt like I was on cloud nine." It seems like making playoffs was icing on the cake.
NGV demonstrates in becoming a better athlete you need to improve in any way possible by participating in a club team or clinics. On that note Coach Doyle had said she would like to take more wins and make it farther into playoffs next year. She also wants the team to make it far enough to receive the first volleyball banner for Nashoba's gym.