Root, Root, Root for The Home Team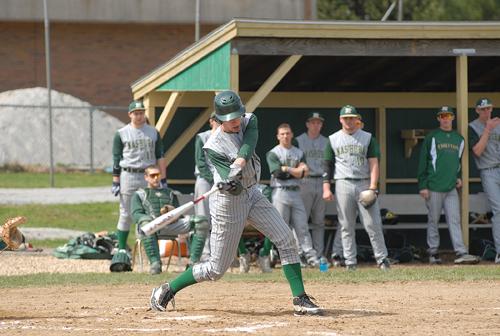 The game of baseball possesses humble origins. Common man, Abner Doubleday, devised the pastime amidst the comforts of his backyard, in 1839. It was not until 1846 that the first official baseball event came to existence; a professional league was not established until 1876. Present day, United States' citizens enjoy the pleasures of baseball across several facets. Nashoba Regional High School pays its tribute to the timeless pastime, beginning in the spring and highlighting the boys' varsity baseball team.
This year's group promises to be especially spectacular. So far, during off-season practices, the cohort of young men have aligned their talents. The team hopes to excel through preliminary games and onto playoff games.
According to Varsity Captain Ethan Sprague, "I think this year's varsity team is going to meld very well together because there weren't many seniors playing last year so many of last year's varsity players are returning".
The team is very close and familiar with one another. Each member recognizes the ways in which he can best fuse with his peers.
"[My favorite part about baseball is] being part of such a close team while still having a competitive season", said Sprague.
For some of the senior varsity players, this upcoming season may be the last time they play baseball. Others will continue to participate at the intramural, club, and college levels. Regardless of future baseball plans, this year's seniors hope to exit with a bang and hold onto fond memories of the team.
"My favorite Nashoba baseball memory was last year in the first game of the season at Northboro. This was a good memory because I could tell our team had good chemistry and was going to be pretty good", stated Sprague.
As spring approaches, captain's practices will begin to become more frequent: twice a week throughout the winter time. The baseball teams participate in many common drills, but also add a few of their own to the mix.   
According to Ethan Sprague, "The Nashoba baseball team focuses a lot on live hitting, something most other teams don't get as much of".
The first baseball tickets sold were a dollar per admission. Nashoba Students have the privilege of  attending school games at no cost. Considering the enthusiastic way in which many students, coaches, and players view the upcoming baseball season, attending such games is time well spent. Grab a scrumptious pack of cracker jacks and an old baseball cap in order to witness the debut of the 2016 baseball season!