Nashoba Football in the Playoffs? You bet.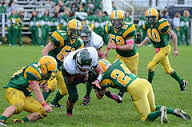 Coach of only three years, Jaime Tucker, believes he has a team that can turn the tables and become the state's best once again. After Nashoba's close game on Friday, October 16th against Leominster, Nashoba went on to dominate Clinton in their last regular season game.
Throughout the Leominster game, fans were biting their nails as the two undefeated teams fought back and forth with touchdowns, never being more than a few points apart. In contrast, during the Clinton game, Nashoba made touchdown after touchdown for a final score of 34-8. Coach Tucker said, "I know we have a lot of experienced players and I know we have a great group of kids.  I know they play hard for each other and I think that has been the biggest factor for us."
Nashoba was predicted to lose almost all of their games this season, but have proved everyone wrong, with their 11th straight win dating back to last season. "I don't think we're doing anything too different. The group of kids we have really play well together, have great leadership skills, and play really well as a team," says Coach Tucker.
Winning this game against Clinton moved the Chieftains into the playoffs. Coach Tucker said, "Any playoff game is going to be a tough game.  We're probably going to play Marlborough or Algonquin in the first round.  Then we're looking at St. John's or Leominster, both good teams.  So, we're going to have tough games from here on out."
The team's hopes have come true as they have kept their undefeated streak alive throughout the postseason. They beat Marlborough on Friday, November 6th and came home with a Central Mass Division 2 title by beating St. John's 32-27 this past weekend.