You Can Hit on Nashoba Volleyball Players but You Won't Score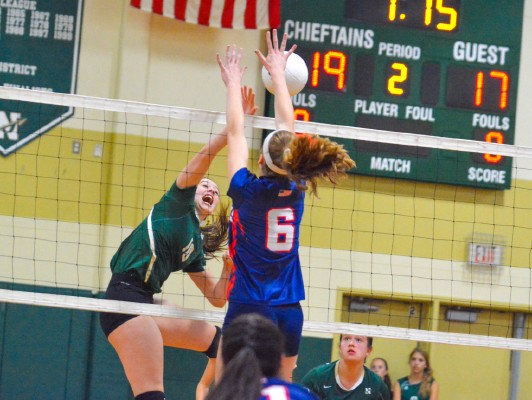 You can hit on the Nashoba Varsity Volleyball players, but you won't score. Their record so far is an impressive 12-3. In fact, the team is already two wins over the required 10 to play in the District Tournament. They've also already played their Pink Night game, which was a huge success. The team made $580 at the game itself and another $3125 during the Making Strides Walk the previous Sunday. Additionally, $300 was donated to the Dana Farber Jimmy Fund in Leah Tepper's memory and $280 was donated to the American Cancer Society in Michelle Farnsworth's name.

During Pink Night, Nashoba launched repeated attacks on the court. Sophomore Vicky Tuttle had four aces (nonreturnable serves) and one kill. Junior Brynne McConnell and Jordan Bricknell had four aces each.
Although many players contribute to each game defensively and offensively, the seniors alone are a force to be reckoned with. One captain, Olivia Perkins, has an unbelievably hard serve and more aces than any other player on the team.  Another captain, Jordan Brady, plays on the right side of the court and is an extremely strategic player. Senior and talented player, Nathan Kovacs, is the one of the team's main setters. Nathan is extremely fast and can get to any ball on the court. Other senior players include Hannah Goddard, a talented back-up setter  and Taylor Tower, a fierce back-up outside hitter. Both of these girls give their all in every practice and game.
Key player, Clarissa Tucker, plays "Libero" and acts as the team's defensive specialist. She is on the court,  playing in the back row,  95% of the time. She makes incredible digs when the other team spikes. When asked about this year's team, she remarked, "The team is fantastic and full of potential. In my four years on Varsity this year's team has been the most powerful. We've started the season beating two teams that we've never beaten before. This year, we've gone really far, even getting Nashoba Volleyball their very first banner."
The last game of the normal season was played on Halloween and was a huge success. It was between the top two teams in the Mid-Wach league: North Middlesex and Nashoba. It was an close game that kept fans on the edge of their seats. In a huge victory, Nashoba prevailed and won the league banner for the first time in Nashoba history!