Michelle Farnsworth: A True Lover of Life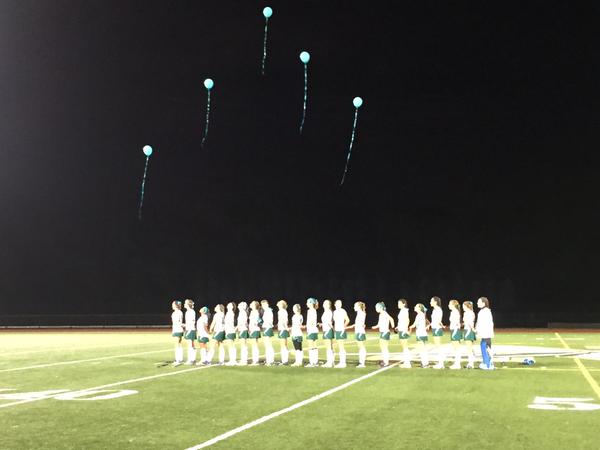 A voice of reason once advised, "feed your faith and your fears will starve to death." Such is a shred of wisdom far easier to recite than to practice. Fortunately, Nashoba Regional High School possesses both students and angels who exemplify the nourishment of faith amidst the scariest of worries.
Michelle Farnsworth endured a valiant battle against rhabdomyosarcoma, a cancer which plagues both tissue and bone. She retained an immeasurable amount of faith in regards to both her own future and her peers' well-being.
According to fellow field hockey player, senior Olivia Magliozzi, " [Michelle] loved life. She was really silly and bright. Throughout the whole thing she never let the cancer get her down."
Michelle's strength and bravery in the face of an individual's worst fear, a terrible illness, epitomizes the strength any figure might ever hope to have. The young woman was a source of light in the lives of both her fellow students and teammates. Before she was diagnosed, Michelle played mid and defense for the Nashoba field hockey team. Throughout her struggle, Michelle persistently attended the field hockey games of her team when she wasn't in the hospital.
Michelle Farnsworth passed away on January 13, 2015. Her absence left an insurmountable impact. Especially for those students to whom she was close, Michelle continues to positively affect the Nashoba community.
One of her greatest gifts was to those who knew her as a field hockey teammate. She has instilled an everlasting beacon of faith, despite fear, within her teammates. Nashoba's field hockey team will continue to honor such a beautiful message through an annual game in Michelle Farnsworth's honor. Such a tradition began during the fall of 2014 and will continue for decades to come.
This year's Michelle game pulled at the heartstrings of those attending and participating. Before the match began, the national anthem was recited. Then, a special twist was contributed in memory of  Michelle.
"We had a moment of silence and released balloons. We got to see her whole family there," said Magliozzi.
This celebration of the young girl brightly began the game against Shrewsbury. Nashoba cheered and triumphed. According to Olivia Magliozzi, the way in which the team won was most fitting.
"We got three goals and her number was three," said Magliozzi.
Although this special field hockey game is a yearly event, students of Nashoba hold onto the memory of Michelle in simple ways. They remember her musical laugh, sweet demeanor, and everlasting courage. To this day, the Nashoba field hockey team fondly retains glimmers of the young girl.
"The whole team shared this memory, we would always joke that even when she missed a ball she would always turn around laughing," said Magliozzi.
This field hockey season and the many to come will proceed with acknowledgement of Michelle, both an outstanding individual and player. While the team cannot promise to win all of their matches, they can control the way in which they address the game. Similar to the way in which Michelle approached her battle against cancer, the group of field hockey girls has vowed to approach this and future seasons one day at a time.
According to Magliozzi, "The field hockey season has gone well so far. We decided at the beginning of the season that we wanted to win all of the small battles…we've definitely done that."
Michelle Farnsworth taught the students of Nashoba Regional High School a crucial concept: although an individual cannot direct the happenings of the universe, she can control the way in which she chooses to react. The Nashoba field hockey team preserves such a notion, thereby honoring the girl in the most meaningful way. The imprint Michelle gracefully gifted to the Nashoba community will never be erased.