Scream Queens: A Chilling Critique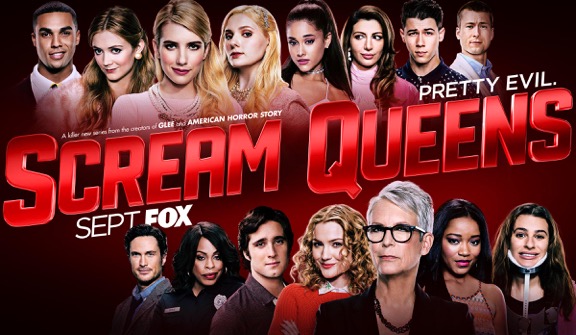 Everyone loves a good scare, especially during Halloween season. Such a frightening event is even more popular if delivered with a little laugh. If you love feelings of terror, but also enjoy episodes of giggling , then the new show, Scream Queens, is a perfect match. The show plays on FOX's channel 4, Tuesdays at 9/8c.
Scream Queens possesses a blend of comedy, horror, and mystery. The show has a great cast: Jamie Lee Curtis, Emma Roberts, Lea Michele, Abigail Breslin, Oliver Hudson, and Grace Gardener are only some of those stars present.  The show's setting is Wallace University. Two decades after such an institute has been involved in a mysterious death, another murder occurs. Everything goes downhill from there. As the investigation goes on, each individual is afraid he or she will be the next victim. The show's characters are constantly working to discover the identity of the  villain in the red devil costume.
Scream Queens was created by Ryan Murphy, Brad Falchuk and Ian Brennan. Their idea was to meld horror and comedy. A review by the New York Times describes the program as, "Friday The 13th meets Legally Blonde". On the other hand, TIME magazine criticizes the new TV show as, "a missed opportunity for Fox and Ryan Murphy".
I have watched the show a couple times; I agree that the episodes can be quite corny. Some parts of the plot are not fully explained and do not make sense.
I would encourage readers to decide how they feel about Scream Queens separate of the opinions of others. Make some popcorn, sit on a couch, and decide what you think.