Bolton Orchards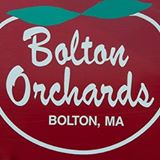 Looking for some delicious apples, freshly made cider donuts, and some apple cider? Right off of 117 is Bolton's famous Bolton Orchards! Come enjoy their fresh vegetables, apple deserts, and their Italian bakery. There are many options at this perfect shop for anything you want, especially during the fall. On a nice day, head out back and enjoy some of their homemade ice cream that is bound to impress. If it's too cold for ice cream, take a look inside the cute country store and get some warm apple cider donuts made fresh every Sunday.
The perfect place to get a birthday cake or even just something sweet is the Italian bakery, Gerado's, located in the back of the store. They make delicious canolis, cupcakes, gourmet cakes, and much more. If you want to try some of the apple cider you can. For only five cents grab a cup and you'll be sure to come back for more of it. Also, Bolton Orchards apples are already picked and ready to purchase for you. Just grab a bag, pick the apples you want, and you're done. The apple and blueberry pies are by far the best thing here. Already pre-made, you just need to heat them in the oven for a perfect fall dessert.
My family and I live just about five miles from here and we come here all the time throughout the year. Their apples are a necessity in our household as well as their apple cider and pies. The orchard is directly associated with Davis farmland in Sterling which is interesting because I always would go there as a kid! The orchard started off as a small store providing fresh apples and cider but now they have expanded into adding a bakery, deli, and even groceries. The best part is still the apples though! The newer parts like the deli and bakery are still very good, but the orchard is notorious for their apples. If you pass by this orchard you will see the sign on the top saying "Shhhh! The Apples Are Sleeping" with an apple in bed. In that building is where they store most of their apples and other products.
I talked to a Bolton resident about the orchard. Sophomore Elena Barshak talks about their fresh sandwiches and great cider donuts "I love being able to chose what I can put on my sandwiches. The donuts are made fresh every Sunday and they're really good!"
I agree with Elena those donuts are good! So if you're ever near Bolton make sure to take a stop at Bolton Orchards and grab some delicious cider and donuts.